Resilient, Real-time, Low Latency Server Sync
The fastest and most reliable way to sync servers and storage










Automate, visualize, & accelerate file delivery 10x faster across any server environment—to keep your business
running
Data-driven organizations trust Resilio to rapidly synchronize files across servers running a diversity of web and application workloads. Resilio's high performance solution keeps all files current and accessible 24x7.

Real-time low latency
Instantly replicate and sync files across servers

High performance
Sync many millions of files of any size and type

Resilient & highly available
Meet and exceed goals for DR and active-active HA

Cross-platform
Use your OS of choice - Linux, Windows, Mac, FreeBSD

Easy to manage
Centrally control, visualize, and automate file delivery

Synchronize up to 100s of millions of files of any size and type - reliably and predictably across any network.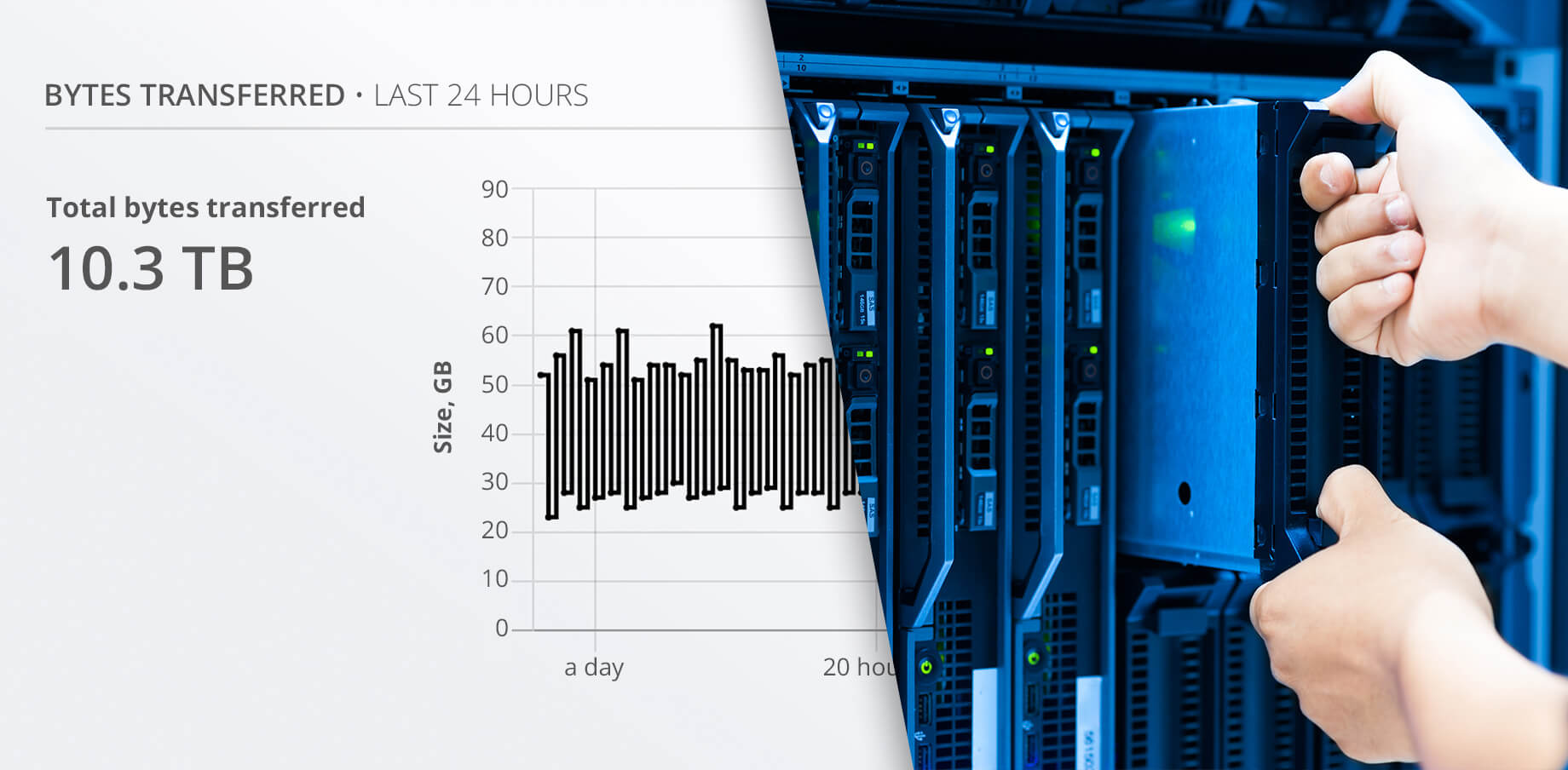 Use Cases
Web and App Server Sync
Rapidly sync your web and app servers across the local network or WAN. 

File Server and Storage Sync
Sync data at full speed between an infinite number of servers, running your operating system of choice—and any type of storage.

DFS Replication & Sync
Easily replace DFSR with a highly reliable, highly available, fast and scalable server sync solution.

WAN Optimization
Overcome latency and packet loss to move data fast and predictably. 

Hybrid Cloud
Sync data between on-premises and the cloud or between clouds. 

Data Migration
Reliably migrate files and metadata across servers and locations.

Compare Resilio Connect Vs. DFSR, rSync & Other Solutions
Resilio
Connect
When all else fails, Connect continues to deliver. Connect is the only solution that will 100% deliver your data - and on schedule. It's packed with 10x faster data transfer speeds and robust scripting to reliably patch any system in the remotest locations.

Automate all jobs with Connect's robust API. Execute scripts with custom triggers before and after transfer jobs. Write scripts in the language of your choice.

Eliminate the bottleneck in system updates from failed file transfers. Ensure that every endpoint in your network is updated with Connect's fault tolerant transfer protocol that resumes every failed transfer until the job is 100% completed.

Key Benefits
Feel confident knowing files are continuously available to end users and applications.


Reduce costs using your platform of choice on-premises and in the cloud.


Deliver files on-time all the time, across as many servers, file systems, storage devices, and sites as needed.


Overcome latency to obtain full-utilization of bandwidth across any distance.‍


Reduce time to access files. End users, applications, and workflows have immediate access to updates.

Features & Benefits
Connect
RoboCopy
DFSR
GoodSync
Rsync
Speed & Scale
File Capabilities
Archive of deleted and modified files
Security
mutual server authentication
Reliability
File Integrity verification
File blocks transmission from multiple peers
Smart routing of file blocks
Admin & Automation
Licensed for unlimited data
Granular network controls










Yes, it's another form...
But if you make the effort, we'll show you how to move data faster over any network.