Resilio Connect Zero Gravity Transport (™) is the Fastest Way to Sync Data
Zero Gravity Transport(™) is a high performance WAN optimization technology powering the Resilio Connect data management solution over wide area networks.  Resilio Connect ZGT's unique distributed architecture makes it the fastest way to synchronize data across multiple sites and the public cloud.
"Our engineers deployed a successful test version in a hour - without reading a ton of manuals - that delivered the best result of all the solutions we tried"
— Roman Sakno, Enterprise Architect at Wargaming.
Distributing a 9 GB file to
500 endpoints

over 100 Mbps link (150ms latency, 0.5% Packet Loss)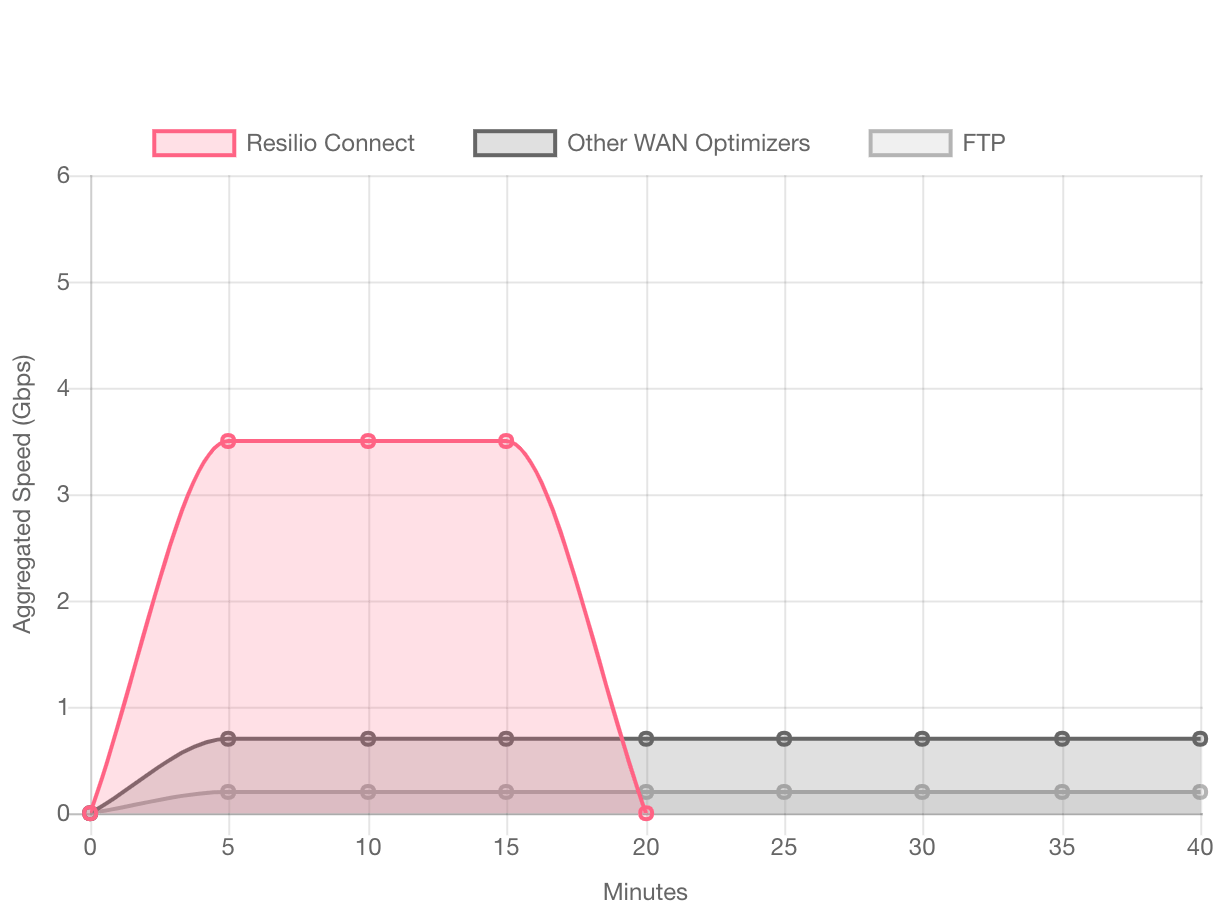 Hyper-Fast WAN Optimization, 10+ Gbps per Agent
Each Resilio Connect ZGT agent is capable of 10+ Gbps throughput regardless of intervening network conditions such as packet loss and latency.  Critical applications are delivered faster and more reliably, even to remote offices. Expensive high speed WAN connections never go underutilized.

Schedule a Demo
"Resilio Connect enables us to reliably distribute our code, specifically new language models in a fraction of time. These copy jobs now take an hour, down from eight. Best of all, once Resilio Connect was installed, it just works: We never need to manually intervene in any way."
— Christian Bryndum, VoiceBase's Director of Operations
Cluster ZGT Agents (Scale Out) to fill 40 Gbps and beyond
ZGT's modular architecture scales out to 40-100Gbps throughput by clustering multiple ZGT agents between locations. Scale out WAN acceleration ensures large data never delays mission critical applications.
"Now we can retrieve information that is more complete, fulsome, and more robust because we have the ability to transmit large files faster across the internet"
— Jerry Evans, President & CEO of Nia Technologies
Eliminate Idle Time
Data intensive workflows happen significantly faster with ZGT, eliminating idle time between teams or across mission critical applications.  If "time is money" in your data workflow, ZGT saves you time exactly where you make money.

Schedule a Demo
Automate Data Workflows
Configure, automate and simplify data workflows across the enterprise.  Define repeatable rules that govern data flows and ensure seamless, secure and fast data access.

Multi-cloud Integration
ZGT operates natively with major public cloud platforms enabling seamless, best of breed  multi-cloud operations and reliability for mission critical applications.

More Sites Makes Resilio ZGT Even Faster
Unlike point to point WAN Optimizers, Resilio Connect ZGT is a full mesh solution where data moves between all locations concurrently.   Point to point solutions become slower with each new site by splitting available capacity.   With Resilio, the more sites you add, the faster the system becomes as all sites contribute capacity.  It's the first WAN Optimization solution that works the way you do, in parallel.

Intelligent Protocols
ZGT intelligently and automatically analyzes the underlying network performance by measuring packet loss, latency and throughput over time. ZGT automatically adjusts to maintain a consistent speed and maximize utilization of the internet connection, learning and adapting in real-time to conditions experienced and expected.

Reliable WAN Optimization over Edge Networks
ZGT delivers resilience and reliability over low-capacity and unreliable connections. Deliver mission critical applications to thousands of remote endpoints with confidence.

Fast Access to the Public Cloud

Resilio Connect ZGT agents connect natively to public cloud object storage (Amazon AWS, Microsoft Azure, Google GCP).  Automatically synchronize large, mission critical files between local filesystems and object storage.
Maximum Efficiency
ZGT integrates block level data deduplication and data caching and ensures data already sent is not retransmitted again.  ZGT seamlessly adjusts to low capacity links at the network's edge with optional data compression for metered connections.

Eliminate Downtime
Resilio's full mesh architecture routes around network and system outages and maximizes data availability. Recover from disaster faster and ensure downtime never happens in the first place.  The relationship with your pager will never be the same.
High-Speed Data Synchronization
WAN Acceleration speeds data synchronization between branch offices.  Replicate distributed file systems and ensure that each branch office has the local data needed for fast and efficient application performance.

Fast Sync for Millions of Files
Synchronize tens of millions of files regardless of file size or type across any number of locations or servers. Synchronize primary and secondary storage across geographical regions or synchronize local storage with the public cloud at maximum speed.
Schedule a Demo