Overcoming Poor Connectivity.
Any Network Will Do.
Overview
In many cases network reliability and availability are far from certain. This is a natural condition in remote areas, developing countries and even in the far reaches of your business such as retail chains and remote offices. The Internet of Things promises to bring this condition to even more of the Internet with the rise of mobile workforces, connected vehicles, countless industrial applications and beyond.

The distributed architecture of Resilio Connect and its independence from the Internet makes it uniquely suited to move data under such conditions in ways the cloud never can.

Solution
Resilio Connect converts your infrastructure into a meshed network, where network and CPU load are distributed from centralized servers to clients and endpoints. Data flows from all clients, ensuring that the optimal path is used at all times. The peer-to-peer mesh network automatically serves any piece of a file from any client that has it. This leverages every single Resilio Connect client in your network, reducing the load on your servers and internet channels, and improving the availability to your data and infrastructure.

Resilio Connect takes the best of BitTorrent peer-to-peer networking experience to build a resilient transfer protocol designed to overcome network failures, and efficiently resume failed transfers.

Derived from the compact and lightweight uTorrent engine, the Resilio client is able to operate in the tightest spaces and has been embedded in numerous platforms. This capable workhorse makes it perfect for a wide array of IoT applications. It's ability to leverage low bandwidth and intermittent connectivity as well as the fully meshed and scalable nature of Resilio's distributed architecture means getting data to or from millions of endpoints is easily within reach. The distributed architecture of Resilio represents the only viable and scalable future for IoT messaging and data delivery.

Free from the scaling limits and frequent failures of a centralized point of distribution, it's like having the performance of a local data center in every remote location, without the cost or administrative overhead. This software solution organically scales itself to the demands of any job without scaling your budget to invest in more centralized infrastructure. Resilio Connect is easily the most efficient technology on the market for moving big data to many endpoints.

Here's an examples of SCCM and Resilio Connect in a complimentary model:
A new OS image is developed and made available at the Head Office, 50 remote sites require this image available locally to deploy to POS devices.

Resilio automatically synchronizes files to all endpoints. Resilio handles the image synchronization over the WAN from the Head Office servers and can synchronize parts between remote sites providing redundancy and expanded capacity.


SCCM utilities the images to deploy and re-image POS devices with updated OS images.

Applications
Software updates and patching: Update every endpoint in seconds, when every second counts.


Stop sneakernet: Don't use Fedex to ship USB sticks to remote locations, Resilio reliably works on any network.


Media distribution: Get big media to many locations, from thousands of theaters to as many remote offices.


Online education: Get the richest materials to every student, no matter how remote.


Get Big Data to your team: Collaborate on large data sets, even when your team is in the field.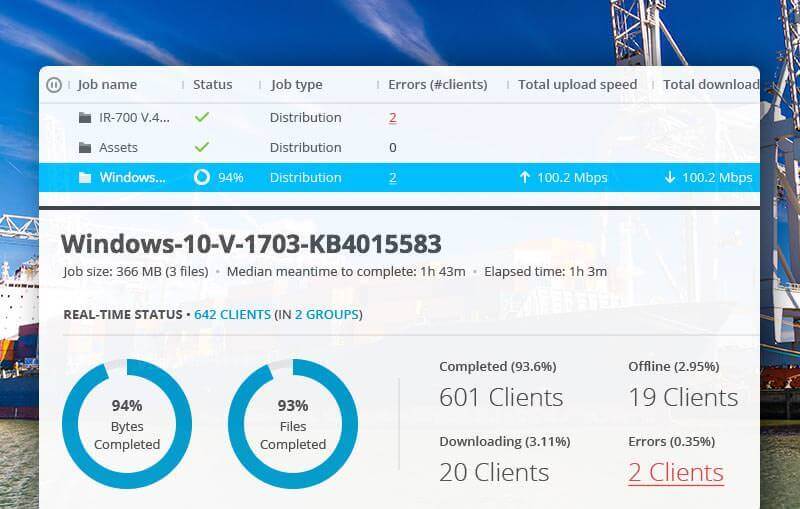 Key Benefits
Absolute reliability independent of network conditions and hardware availability.


Unlimited scalability. Bandwidth efficiency reduces your costs and scales for maximum throughput without the need for intensive configuration.


Central management provides full visibility into transfers and lets you schedule data movement off of peak times.


Client side API enables integration and extension of the solution. Runs on (almost) any operating system. Cross-platform deployment without dedicated hardware means you can easily deploy our solutions on existing infrastructure.


Headless agents

"Our entire situation is tremendously better, great cost savings and our data is now delivered on time."– Jason McCune , Director of Information Technology at BPS
Yes, it's another form... But if you make the effort, we'll show you how to move data faster over any network
Thank you for your form submission