Update Vehicles Quickly and Reliably
Deploy system updates to emergency vehicles, vessels, and planes faster than anything you have seen before. Connect operates over your existing infrastructure and uses P2P technology and WAN acceleration to overcome any network limitation.

Eliminate vulnerabilities in your IT infrastructure with Connect's fast patch deployment protocol to distribute security patches and updates for ultimate endpoint security.
"For us, it was head and shoulders above the other products. It's really a turnkey solution."
— Alex Bellak, EMS Systems administrator.  City of Troy, Michigan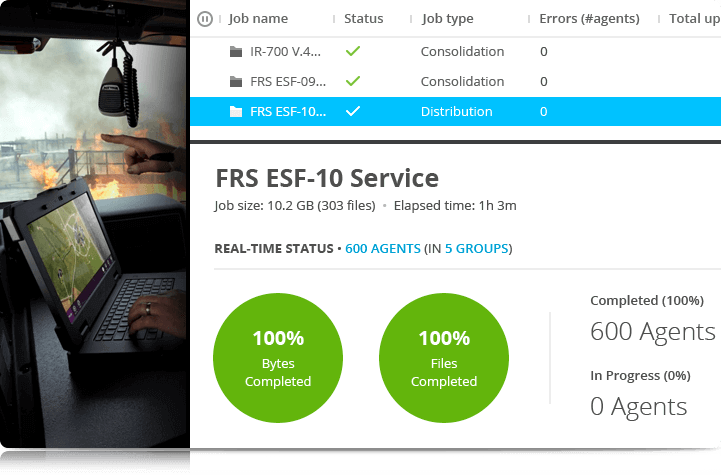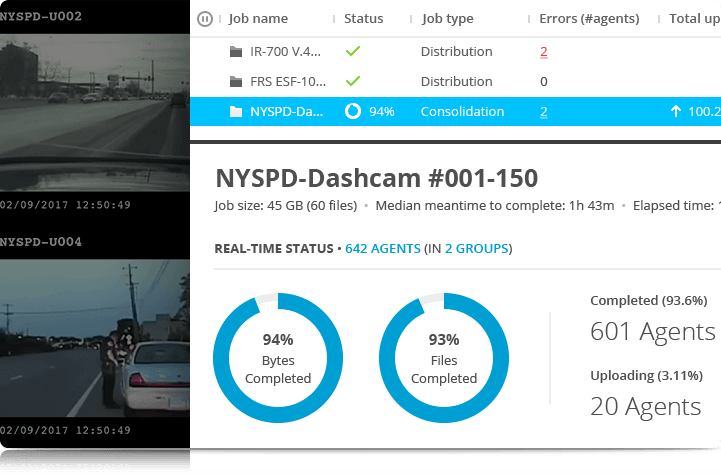 Collect and Backup Operational Data
Consolidate data from multiple vehicles with Connect's robust data consolidation system. Stop wasting time waiting for vehicles to come in close proximity to pull their data.

Get performance stats and transportation data from vehicles around the globe traveling with limited internet connections.
Schedule a Demo
Distribute Operational Data
Distribute time sensitive data like maps, blueprints, user manuals, and Electronic Flight Bag (EFB) information to your fleet of vehicles.

Connect delivers over any network and provides the kind of fault tolerance that is expected in your IT environment.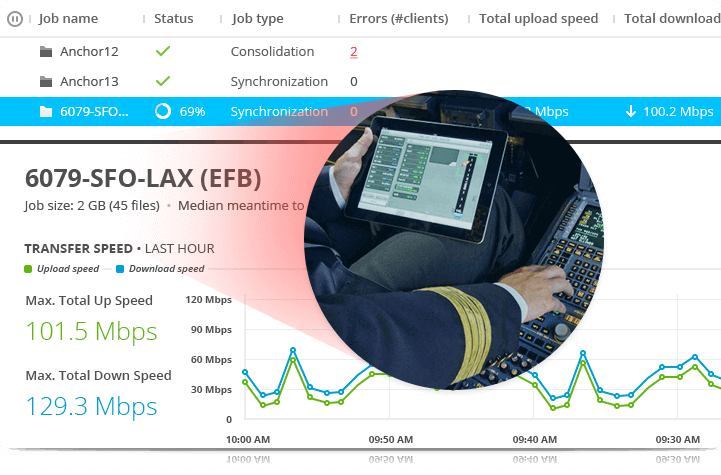 100% Reliable
Eliminate the bottleneck in system updates from failed file transfers. Ensure that every endpoint in your network is updated with Connect's fault tolerant transfer protocol that resumes every failed transfer until the job is 100% completed.
Fits into Your Workflow
Automate all jobs with Connect's robust API. Execute scripts with custom triggers before and after transfer jobs. Write scripts in the language of your choice.
Global Scale, 10x Faster
For every endpoint added in your network, Connect becomes more powerful, faster, and resilient with transferring your data. Expand IT operations to new and existing sites in your business. Connect is the only solution that can deliver data over slow/poor connections where competing solutions fail.
Security Safety Net
When all else fails, Connect continues to deliver. Connect is the only solution that will 100% deliver your data - and on schedule. Its packed with 10x faster transfer speeds and robust scripting to reliably patch any system in the remotest locations.
Schedule a Demo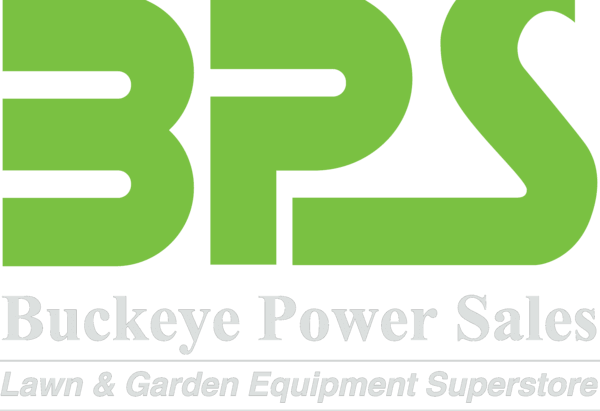 "Our entire situation is tremendously better, great cost savings and our data is now delivered on time." — Jason McCune , Director of Information Technology.
Read Customer Story

"Resilio Connect has been a game changer. It's proven to be reliable in file transfer, It's proven to be reliable in database replication. Overall, Resilio Connect jobs are very easy to set up and they just work!"— IT Developer at Lindblad Expeditions
Read Customer Story
Trusted by 100s of Business Customers Worldwide


























P2P: The Fastest Way to Move Data
Scripting & Integration Hooks
Resilio Connect enables integration of scripts in transfer jobs. Each job has 3 scripting triggers: prior to starting a transfer job, after a machine completes a transfer, and after all machines complete a transfer.

This is an easy and powerful mechanism that enables integrating Connect with your existing workflow, including Git, Jenkins, Mulesoft, home-grown solutions, and more. Use custom scripts to install software, modify settings, etc. Scripts can be made OS-specific and written in any language.
Schedule a Demo
WAN Optimization
Connect's WAN transfer protocol is optimized to overcome latency, loss, and dropped connections. Long distance connections bring high latency and some loss. Similar behavior happens when connecting over Satellite or 4G/LTE.
Resilio Connect utilizes 100% of the available bandwidth in your network independent of distance, latency, or loss. Legacy transfer protocols degrade by 50-90% over lossy or latent networks. For more info, read the P2P Article or try the Speed Calculator
Robust Reporting & Analytics
Connect's Central Management Console provides a comprehensive view of your synchronization and transfer jobs.
You can view real-time performance metrics, drill into the status of individual endpoints, and review the history of all executed jobs in your network. Connect maintains a complete audit trail and event logs that are stored in a standard json format that is compatible with event processing solutions like Splunk, LogRythm, and Loggly.