Connect for Cloud Sync


A Secure, Fast, Cloud Sync Solution

An easy to use cloud replication and synchronization solution for n-way data transfer between on-premises NAS, cloud object stores and cloud file shares.
Resilio Connect for Cloud Sync
Resilio Connect is a cloud sync solution delivering fast and secure n-way data synchronization between on-premises file shares (NFS, CIFS, SMB, NAS) and object storage (AWS S3, Azure blob, NetApp StorageGRID, IBM Cloud Object Storage, Google Cloud etc.)

The solution is a faster and more powerful version of common Cloud Sync services such as NetApp Cloud Sync or AWS DataSync, expanding potential use cases between cloud solutions like Azure NetApp Files, on-premises file shares and data management solutions (e.g. NetApp ONTAP).

Resilio is a synchronization service that securely synchronizes the data where you need it in real-time, ensuring instant data availability for your applications.

A Complementary Alternative to NetApp Cloud Sync
Resilio Connect is fully compatible with NetApp, Inc. storage systems, cloud volumes services, and cloud data services such as NetApp Cloud Volumes ONTAP, Amazon FSx for NetApp ONTAP, and Azure NetApp Files. For NetApp customers requiring universal, scale-out, active-active (uni- , bi-, and omni-directional) file delivery from on-premises data centers to the cloud - or from the cloud to on-premises data centers - Resilio offers a complementary alternative to NetApp Cloud Sync.

NetApp customers can leverage their on-premises NetApp storage, data fabrics and cloud-based NetApp data services to scale-out synchronization services to any number of endpoints. For example, from a NetApp scale-out cluster, customers may create omni-directional active-active sync relationships with nearly any cloud storage service or NetApp system. The solution is ideal for a variety of use cases from tiering to data synchronization. WAN optimization is built in. The solution works with VPC but also provides native end-to-end security and complete resilience for all file data in transit.

NetApp customers use a familiar, comprehensive, universal tool set to sync files with a variety of their NetApp cloud services - hosted in Microsoft Azure, Amazon AWS, Google GCP, among other cloud providers.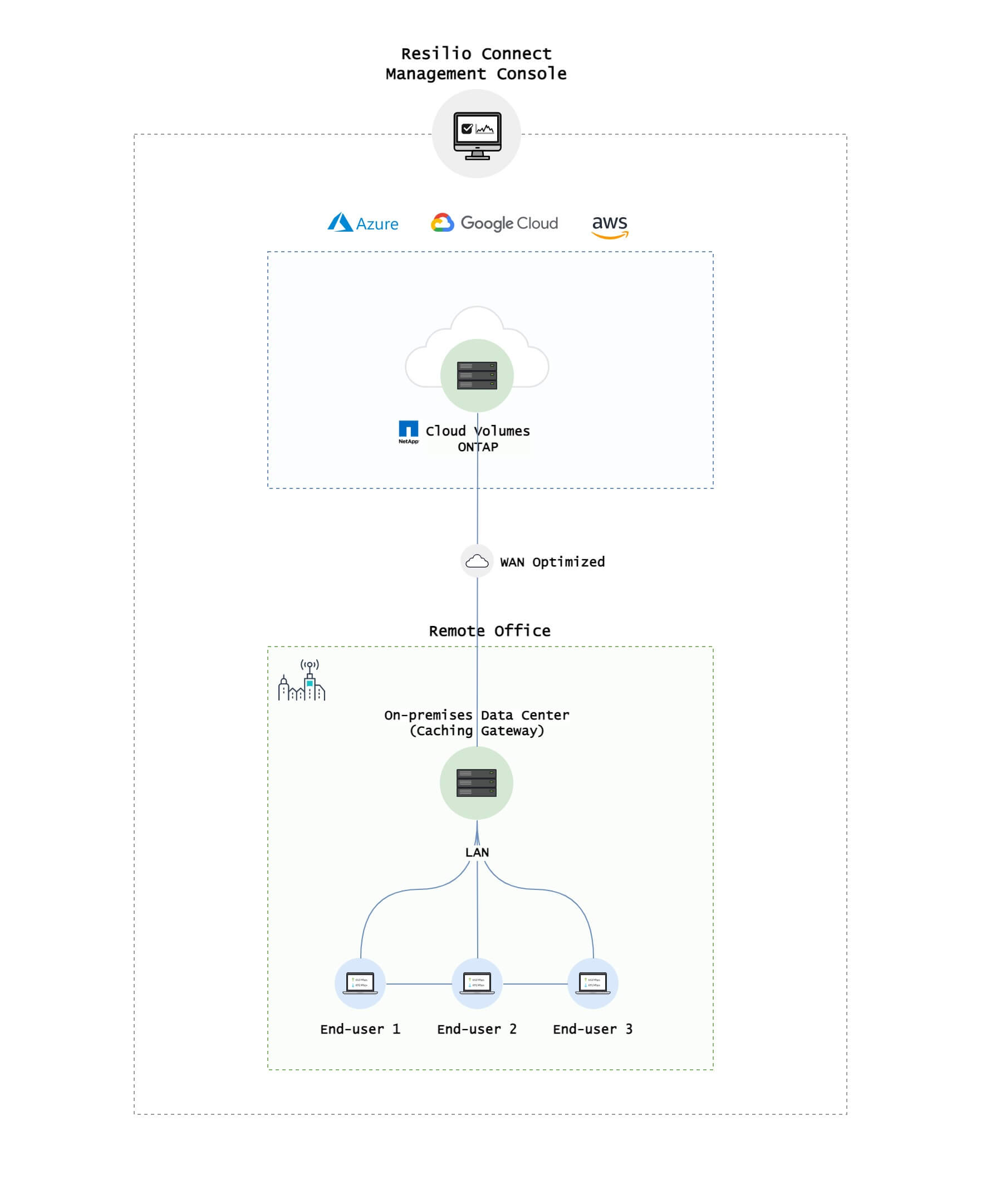 Use Cases
Data Migration
Moving data into and out of the Cloud or between Clouds.

Multi-Cloud
Supports replication across concurrent Cloud environments for maximum flexibility or Disaster Recovery.

Cloud Onboarding
Move on-premises file shares to the cloud.

Remote Work

Sync data fast with local data caching to extend existing on-premises or cloud storage for remote employees.

Global File Systems
Transparent selective synchronization of file systems and permissions of large cloud based file systems.

Key Benefits
Flexible
Supports sync schedules or real-time, N-way continuous sync relationships between on-premises and cloud

Secure
Data transfer remains within your security boundary without the complexity of a VPN for maximum data security and data protection

Scalable
Distributed scale out architecture supports 100's of millions of files per agent

Efficient
Only moves dataset deltas and saves costs between cloud providers

Simple
Intuitive web based GUI or API automation

Cost Effective
Eliminates usage-based pricing and unexpected bills from cloud providers

Compare Resilio Connect Vs. NetApp Cloud Sync
NetApp Cloud Sync is a NetApp cloud-based product that connects different file sources (NFS, CIFS) and objects (AWS S3, Azure blob) in scheduled one-way synchronization. We are going to compare it to Resilio Connect that provides real-time, scalable two-way synchronization between similar targets.

Resilio Connect has additional features such as caching gateway, remote access to the data, which we will briefly cover in this article. We will do a full feature comparison of two products, so you could choose the best solution for your project.

Features & Benefits
NetApp Cloud Sync
Connect
On-prem storage
Cloud Files
Cloud Objects
API
WAN optimization
Bandwidth scheduler
Yes, it's another form...
But if you make the effort, we'll show you how to move data faster over any network.