Collect and Control Data at the Extreme Edge
Reliably transfer data from remote locations using any network






Transfer And Deliver Assets On Time, All The Time
Organizations acquiring mission-critical data sets in remote places need Resilio Connect. It's the most reliable and efficient data transfer and deployment system available. Resilio enables operators to securely transfer payloads of any size and type from the hardest-to-reach places to any other destination—using any network and device. The solution overcomes extreme latency and loss—for reliable use across VSAT, cell, radio, WiFI, and intermittent connections—to transfer data in fixed and predictable time frames.

Optimized
Overcome extreme latency and loss to move data efficiently

Resilient
Move files on time all the time—across any type of network

Automated
Centrally control, monitor, and automate file delivery

Secure
Protect and encrypt all files in flight end-to-end

Industries
Energy
Efficiently transfer and protect subsurface, seismic, and other high-value data sets. Replicate virtual machines and other business-critical files anywhere globally.

Earth Sciences
Acquire large bulk data sets such as staged forecasts, remote sensing data, and GIS imagery—in predictable time frames to meet deadlines.

Media & Gaming
Rapidly capture, upload, and ingest large 3D models and other high-value assets on location. Use familiar tools and platforms.

Commercial Life Sciences
Securely protect, transfer, and synchronize proprietary and non-proprietary assets using private or public networks, on-prem or cloud. 

Construction & Engineering
Acquire and upload large data sets from construction sites using any available connectivity. Collaborate and share data on location.

Marine
Move data fast and reliably from ship to shore and back again—at fixed rates and in predictable time frames using any available connectivity.

Use Cases
Fleet data acquisition
Retrieve fleet data directly from endpoints or through an edge cache—such as a remote cache server or NAS located at edge sites. 

Large file & content uploads
Retrieve images, LIDAR, and photogrammetry for 3D models. Upload content reliably on location directly from mobile devices and laptops.

Ingest weather & climate data
Ingest large data sets such as staged forecasts, oceanographic, meteorological, models, and other large data sets.

Seismic & subsurface image collection
Reliably collect assets directly from endpoints such as vessels and drones or edge locations, using any available connection.

IoT & Edge
Collect real-time data, log files, and bulk files from remote locations with poor connectivity such as mines, oil fields, pipelines, factories, and vehicles.

Rapidly deploy updates to the edge
In real-time or on-demand to many remote endpoints and edge locations concurrently. Deploy on-demand, on a schedule, or via APIs. 

Why Resilio for Remote File Ingest and Delivery
Resilio automates data collection across multiple endpoints located anywhere.  Through its rugged, durable architecture, Resilio Connect reliably collects data from edge to core or in any direction—using existing wireless or wired networks.  

Latency and packet loss are mitigated through Resilio's UDP-based WAN optimization protocol. Resilio offers fine-grained bandwidth control, compression, and deduplication. When a file changes, only the delta is transferred. Resilio makes efficient use of allocated bandwidth for optimal transfer performance.  

Unlike edge caching appliances, Resilio has no reliance on hub-and-spoke architectures. Transfers can be one- or two-way, many-to-one, one-to-many, and many-to-many. Operators can transfer files directly between endpoints and edge locations. Resilio provides unprecedented control and flexibility for widely distributed data transfers through a single point of management.

When connectivity is not available, Resilio enables offline access for data sharing. Resilio can be configured to throttle bandwidth on slow uplinks and scale performance across high-speed networks.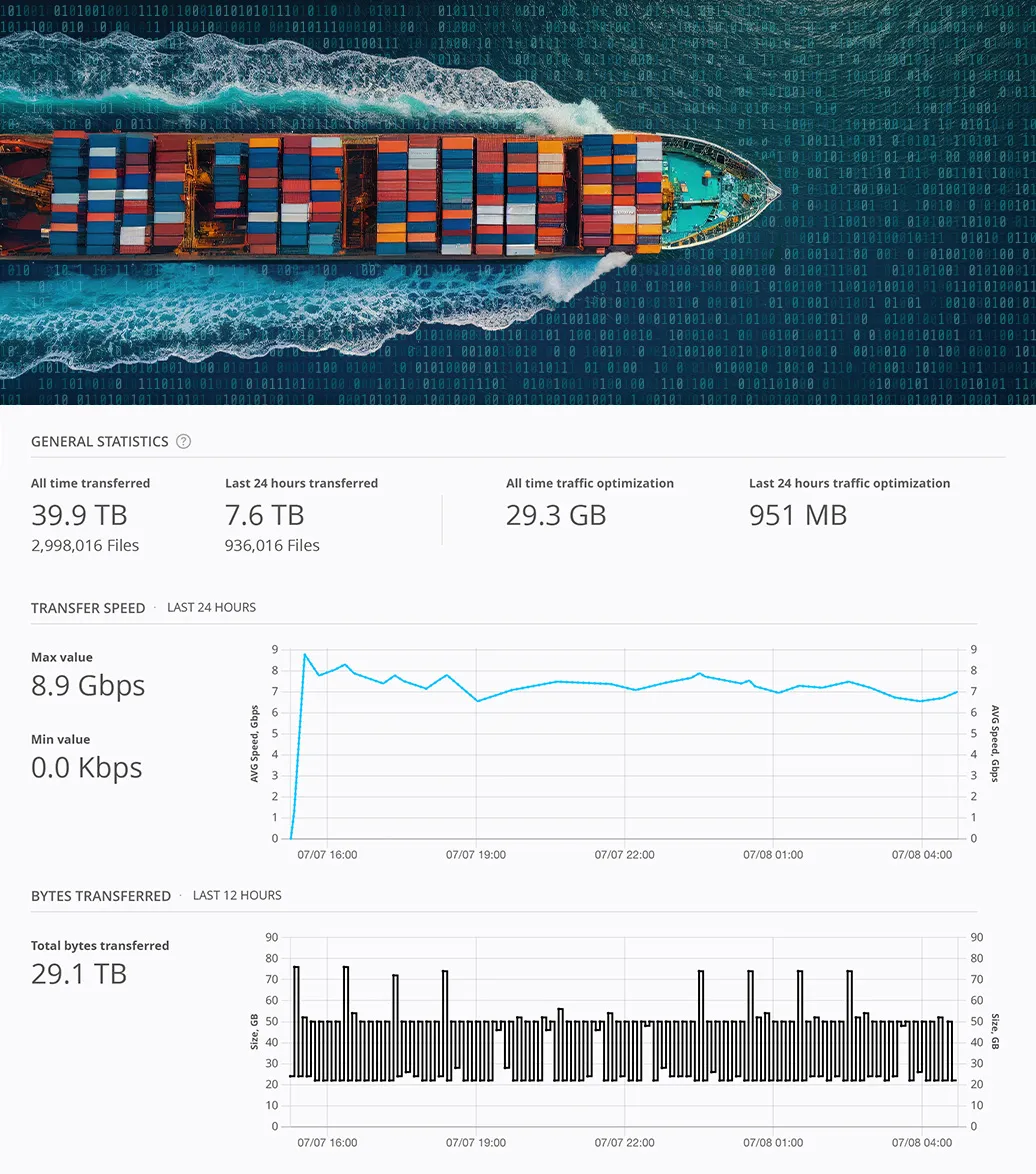 Advantages & Benefits
Optimized to overcome extreme latency
Saves time and precious WAN bandwidth.

Minimize network traffic to preserve bandwidth and reduce consumption.

Utilize infrastructure you already own - Use any type of storage, servers, cloud, or IT infrastructure.

Transfer and sync files efficiently through compression and deduplication.

Deploy updates efficiently to many remote systems at once, in fixed time frames.

Resilient for continuous operations
Files are where you need them, when you need them—no matter what.

Transfer on time across any network, irrespective of latency and packet loss.

Preserve data integrity across all endpoints through SHA2 and ED25519 signature algorithms.

Dynamically route around failures—to maintain data availability and meet deadlines.

Cache and share data for offline access during network interruptions or offline use.

Automated for easy management
Users and apps seamlessly connect to files and folders from any device.

Centrally control and operate widely distributed, global deployments across thousands of endpoints.

Visualize and monitor transfers, receive notifications on job progress, and view performance metrics in real-time.

Automate transfers through set-it-and-forget-it transfers, APIs, and custom scripting.

Interface with 3rd-party management tools such as Ansible, Microsoft SCCM, Splunk, LogRhythm, Loggly, Grafana, and other tools.

Secure to protect data end-to-end

Protect and encrypt all files at rest and in motion

Encrypt and protect payloads in flight using industry-standard cryptographic security.

Secure payloads natively - Zero reliance on 3rd-party security services or VPNs. 

Centrally monitor system-wide event logging for security audits.

Maintain security and flexibility across firewalls - Proxy and port forwarding options are available.







Yes, it's another form...
But if you make the effort, we'll show you how to move data faster over any network.