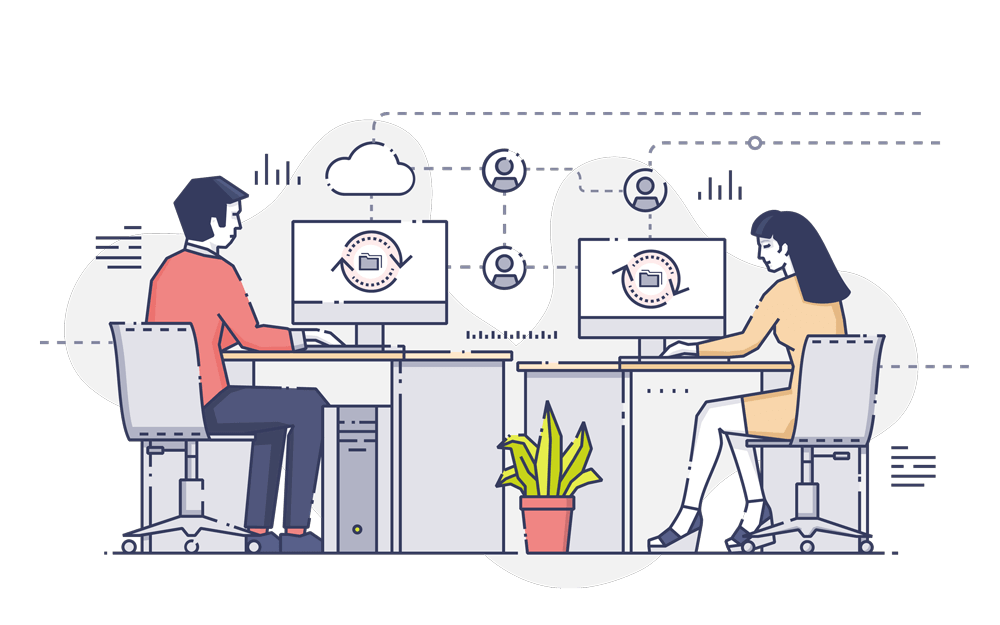 Collaborate On Large Files
Resilio Sync is a fast and easy file sharing solution. It takes only minutes to set up and you can immediately share files of all types and sizes. Resilio Sync moves data as fast as your network allows - several times faster than any cloud-based solution. There are no limits on how much data is shared or how fast data is transferred.
"Once this software is running, it works great with little intervention. Features are strong and we're able to control where data is syncing pretty easily."
Jake C. | Owner, Non-Profit Organization Management
P2P - Unparalleled Speed and Privacy
Sync uses peer-to-peer technology to transfer files.  P2P file transfers make it faster than any other solution and also eliminate any security issues associated with cloud storage services.  Files shared using Sync are 100% private and cannot be seen by BitTorrent or any other P2P file-sharing service.

Compare Plans
Flexible File Sharing & Synchronization Options
You can synchronize whole folders, selectively sync some files and sub-folders, or just send individual files. Using the 'Selective Sync' feature, Sync will create placeholder files in your file-system that can be searched locally. You can click to download only the files you need, when you need them, without having to replicate entire folders on every device.
Easy to Use
You simply add the folders you would like to share, click on the share button and invite people to your folder. Sync is also integrated with the system file explorer - right click and share with Sync, or just drag and drop a file or a folder onto Sync.

With Sync you are no longer limited to one special folder. You can choose to sync any folder on your system and keep folder structures identical across several machines.
Superior Access Control and Privacy
Protect your work with two-step authentication. Limit access to specific people and decide who has permission to edit and view files. You can also protect your shared links with an expiration date. Best of all, no cloud or any 3rd party servers. Just your data on your devices.
Compare Plans
Send Big Files Through Email
Sync enables you to send a large file or a group of large files by email. The one-time-send function can send files via a download link. You add the files to sync, and send a link to the recipients. File sending is done without using an email attachment so there is no file size limit and it works with any email provider.
Real-Time File Sync
Resilio Sync monitors your file system and starts to sync file as soon as it detects a change. It allows for both one-way and two-way syncing. The bi-directional file and folder synchronization system could be used to sync devices in the office, between offices, and even for creating a data backup.
Cross-Platform Solution
Sync supports the major desktop operating systems: Windows, macOS (Mac), and Linux. It also fully supports your mobile devices: iOS and Android. In addition, it supports all the major NAS vendors. Download now.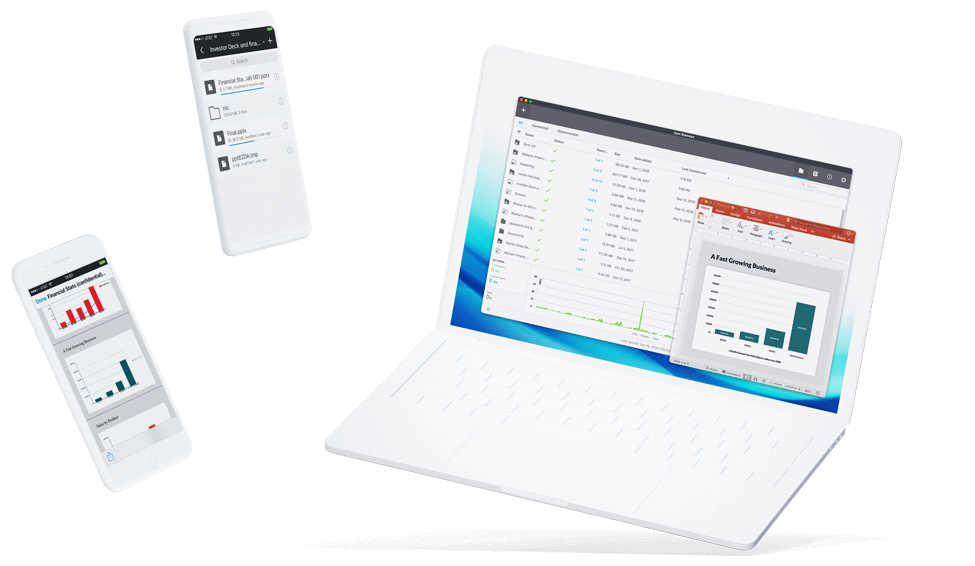 "Overall, Sync has changed the way we organize our files, and collaborate with others."— Danny Davis, the founder of Wonder Giant
Using Sync I can transfer data offsite in real-time, and with the history view I can verify every day that data is being moved. Sync's flexibility and efficiency makes it a tool I'm excited to be using.— Matthew Bartle, Director of IT at Lumsden & McCormick
Compare Sync Business Plans

For Small and Medium Businesses
*Server License is only available for Medium and Large Teams and no additional License can be purchased.
Server License will allow you to use Sync on Windows Server, Linux i386, x64 & FreeBSD.
To Learn more about our Server Sync Solution
click here
*Server License is only available for Medium and Large Teams and no additional License can be purchased.
Server License will allow you to use Sync on Windows Server, Linux i386, x64 & FreeBSD.
To Learn more about our Server Sync Solution
click here
Features & Benefits (available in all Business plans)
100% Reliable
Fast & Secure

Access From Anywhere
File-Level Deduplication

One-Time File Send

Encrypt/ Decrypt Content
Selective Sync

Manage Access Permissions
Control Bandwidth Usage

Link All Your Devices
Full OS Support
Camera Backup
Sync vs. File Sharing Services

Sync Business
File Sharing Services
(Microsoft OneDrive, Google Drive, Dropbox)
Your data is only stored on your devices.
Data is stored on shared devices in cloud storage.
Starts free and becomes expensive quickly.
Uses your storage space, unlimited size.
No maximum file size, support any large file transfer.
Limited to a "magic folder".  Need to copy in & out.

Much faster file transfer.
Secure way to share and send files: end-to-end encryption, no cloud service that could be hacked, no passwords that could be stolen.
Cloud services get hacked regularly, passwords get stolen, you are always one hack away from a data leak

No web-based access and no file previews: to ensure the privacy and security of your sensitive files.
Web-based access and previews are available, but at the risk of your privacy and security.