Seagate Lyve Mobile is a data transfer service by Seagate. Seagate provides a physical device for you to load with your data, you ship it back to them, and then they upload your data to the cloud storage provider of your choice. This process allows organizations that operate at the edge of networks (and in areas with poor/little/unreliable network coverage) to transfer or ingest large datasets (large terabyte-sized files and large volumes of files) into any cloud.
This data transfer model works well for two use cases:
When you have zero network connectivity on site and have no other way to transport data.
When you have one-time or occasional data migration and ingest needs.
But the solution is less helpful for the following use cases:
Continuous data flows — i.e., quickly and regularly ingesting data from edge locations to the cloud (or to other remote sites).
Multi-site sync from the edge — i.e., ingesting data from an edge location and syncing it across multiple sites/facilities or cloud storage solutions.
Immediate, real-time synchronization of data.
Many organizations use Seagate Lyve Mobile or a similar data shuttling solution (such as those offered by AWS Snowball, AWS Snowcone, and AWS Databox) because they believe it's the most reliable way to transfer or sync data from the edge. In fact, in areas with poor but present connectivity, you have another option: Resilio Connect.
Resilio Connect is our highly reliable, real-time file synchronization software system that's designed to optimize data transfers over any network (no matter how poor or unreliable) to provide superior edge data ingest and synchronization. You can use Resilio over Wi-Fi, VSat, 5G/4G/3G cell networks, broadband, etc. Want a demonstration? Schedule a demo.
Large companies in media production, construction, shipping, and more use Resilio Connect to move large files and large numbers of files reliably because Resilio:
Uses proprietary WAN acceleration technology to optimize transfers over any network (regardless of latency, packet loss, or quality) and reliably deliver files to their destination.
Syncs data using a P2P (peer-to-peer) replication architecture that provides faster sync speeds, organic scalability, and any-directional sync (i.e., sync data across multiple endpoints concurrently).
Is a software-only solution that can be easily deployed in any environment and centrally managed. You don't have to ship devices and hope they reach their destination within your desired time frame.
Protects data with state-of-the-art, native security features.
For example, a marine construction company uses Resilio to keep their ships up to date and in compliance with the latest security patches, even though this means pushing updates to 100's of endpoints on dozens of vessels at sea. And they do so in just a few hours each time, despite having an average of 16,000 network disconnects per month. They could never achieve those numbers by pushing updates on physical devices.
So, while we'll break down how Seagate Lyve Mobile works and when you should use it, we'll also share what its shortcomings are and when you should consider Resilio Connect instead.
Customers rely on Resilio Connect to ingest, sync, and replicate data for media workflows (Turner Sports, Innovative), gaming (Wargaming, Larian Studios), remote operations (Mercedes-Benz, Buckeye Power Sales), and more. If you want to learn how Resilio Connect can help with your use case, schedule a demo with our team.
How Seagate Lyve Mobile Works
Seagate Lyve Mobile offers two products (with HDD, SSD, and NVMe options) for storing and shipping data — Lyve Mobile Shuttle and Lyve Mobile Array. Lyve storage devices:
Encrypt data with AES-256 bit encryption and user encryption keys.
Are built with military-grade ruggedization to support safe transfer by air, boat, or ground.
Automatically lock when powered down or disconnected.
Seagate offers monthly and yearly subscription plans. You can set up import requests through the Seagate Lyve Management Portal. You'll be charged a flat fee for each import and Seagate will handle all the shipping and logistics (you can track your device through the Lyve Management Portal).
Once received, Seagate's team will upload your data to the Lyve cloud, or any other cloud storage platform, and provide dedicated support and status updates. Your data is immediately erased from your device after it's uploaded.
While Seagate's data transport service provides a reliable way to transfer large data into the cloud, it has several limitations that make it a poor solution for certain use cases.
Limitation #1: Time to Data Availability
While the Time Savings Calculator on Seagate's website claims that your data can be shipped in 1-10 days, this doesn't take all of the potential delays that can occur with data shuttling services into account. This includes the time it may take to transfer large datasets from your remote storage devices onto your Seagate Lyve Mobile Device, shipping delays, and the time it takes to import your data into the cloud.
It can potentially take weeks before you can access your data. For organizations with fast, intensive data workflows, this is simply too long.
Limitation #2: No Support for Continuous Data Workflows and Multi-Site Synchronization
If you're operating at the edge and need to quickly and continuously ingest data, or if you have a subset of data at the edge that needs to remain there or be updated, Seagate Lyve Mobile's data shuttling model can't satisfy your operational requirements.
This is especially problematic for organizations that need to capture and ingest data from the edge and quickly distribute it to one or more data centers, offices, or cloud storage regions/endpoints. As stated above, it may be some time before your data is shipped to Seagate's team and uploaded to your cloud — you then have to sync it to other endpoints.
Limitation #3: Expensive Scalability
While Seagate's storage devices are designed to handle mass data transfer, as your data storage and transfer requirements grow (i.e., larger files, more files, more transfers), your expenses will increase.
In other words, you'll need to invest in more Seagate storage devices to store larger datasets or support more frequent data transports. And, if any of your devices get damaged or lost, you must replace them.
You'll also need to invest in a separate solution for managing and accessing your data in the cloud, such as a cloud object gateway.
Resilio Connect: The Best Software-Only Seagate Lyve Mobile Alternative
Software-only file synchronization offers a more flexible, reliable, and efficient model for continually ingesting and syncing datasets. But most of the available software-only solutions on the market can't reliably handle poor network connectivity at edge locations.
Resilio Connect is a real-time file synchronization solution that's designed to quickly transfer datasets of any size, optimize file transfers over any network (no matter how unreliable), sync files to multiple locations simultaneously, and scale to support replication environments of any size. As a vendor-agnostic solution, you can deploy Resilio on your existing IT infrastructure, sync data to any device or cloud service provider, and manage all endpoints from one centralized location.
WAN Optimization: Reliable Sync on Any Network for Superior Edge Deployment
Edge networks are plagued by connections that drop in and out, slow speeds, packet loss, high latency, and more. The lack of network reliability and the time it takes to transfer files (especially for large, TB-sized files) can make transferring over edge networks unfeasible for many organizations. That's why many turn to data shuttling devices and services rather than traditional data sync solutions.
But Resilio Connect was designed to optimize data transfer and bandwidth utilization for reliable data collection from any location — regardless of network connectivity — and ingest and distribute to any cloud.
Resilio Connect uses a proprietary WAN acceleration protocol known as Zero Gravity Transport™ (ZGT). ZGT maximizes network utilization using:
Congestion control: ZGT's congestion control algorithm constantly probes the RTT (Round Trip Time) in order to identify and maintain the ideal data packet send rate. The algorithm can detect and adjust to bandwidth changes in real time.
Interval acknowledgments and delayed retransmissions: Rather than sending an acknowledgment after receiving each data packet, ZGT sends acknowledgments for groups of packets. It retransmits lost packets in groups once per RTT. This saves time and enhances the efficiency of transfers.
ZGT also enables Resilio Connect to use any network connection, such as VSAT, cell (3G, 4G, 5G), Wi-Fi, or any IP connection.
Because of Resilio's superior network optimization, logistics organizations that operate in remote areas can reliably collect and distribute data. Before switching to Resilio Connect, Northern Marine Group used a data shuttling model to distribute and synchronize updates across their fleet of vessels. But Resilio helped them simplify and accelerate the process, and they're now able to bring their entire fleet into compliance 92% faster.
For more info on how Resilio Connect optimizes WAN transfers, check out our WAN optimization white paper. Learn how much time Resilio Connect can save you by trying our transfer speed calculator.
P2P Sync: Fast, Scalable, Multi-Directional Sync
As stated earlier, data shuttling solutions like Seagate Lyve Mobile suffer from key limitations that can impede workflows for organizations that operate at the edge, such as:
Long ingest times: Between the time it takes to sync data into your Seagate device, ship it to their upload center, and then upload it into the cloud, it may be weeks before you're able to access and distribute data in the cloud.
Poor scalability: You'll need to invest in more expensive hardware and import shipments to handle larger datasets and more frequent uploads.
Poor data availability: Data shuttling doesn't enable continuous data ingestion or multi-directional synchronization.
But Resilio Connect's software-based, P2P replication model overcomes all of these challenges. Resilio agents are installed at each endpoint in your environment, providing you with high-performance sync capabilities.
1. Sync Data 3-10x Faster than Traditional Sync Solutions
In a P2P architecture, every endpoint with a Resilio agent installed on it can send and receive files simultaneously. This means that each device in your system can work together to fully utilize the bandwidth of your entire environment and maximize sync speeds.
When replicating data, Resilio Connect uses real-time file change detection to immediately identify and replicate only the changed portions of files. It also uses a process known as file chunking to break files down into multiple pieces that can transfer independently.
Imagine you want to ingest a file from the edge and sync it across four other endpoints/devices. The file can be split into five pieces, and each piece can be transferred independently from the others. Your edge device can share the first piece to Remote Location 1. As soon as Remote Location 1 receives the first piece, it can begin sharing it with another device in your environment, even before it receives the rest of the file pieces. Soon, every device will be sharing pieces of the file simultaneously, resulting in sync speeds 3-10x faster than traditional sync solutions.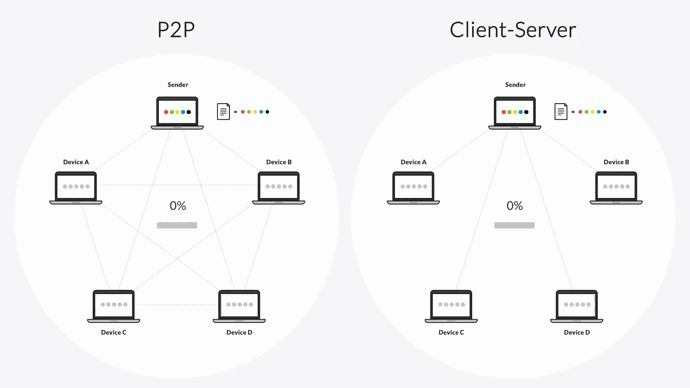 Because Resilio replicates data in real time using a P2P architecture with WAN acceleration technology available at every endpoint, you can sync data from edge locations to the cloud immediately.
2. Achieve Active-Active High Availability for Disaster Recovery
Since any device in your system can transfer and receive files, every device can effectively become a backup server. If a network or hardware failure takes any device in your system offline, the necessary files or services can be retrieved from any other device. In other words, Resilio eliminates single points of failure from your environment.
Resilio Connect enables you to achieve Active-Active High Availability, so your files and applications always remain online. This makes Resilio Connect an excellent solution for disaster recovery and business continuity, as it can achieve sub-five-second RPOs (Recovery Point Objectives) and RTOs (Recovery Time Objectives) within minutes of an outage.
Deutsche Aircraft uses Resilio Connect to sync data across production servers for disaster recovery and to provide timely access to critical data for their engineers.
"We can not afford any disruptions during production. It's critical that these files are available 24/7 during production. Resilio keeps our files replicated and in sync so users always have access to the files they need. If a failure occurs on one server, users are redirected to another active DFS server."
Learn more about how Resilio Connect helps Deutsche Aircraft achieve high data availability.
3. Organically Scale Replication to Support Sync Environments of Any Size
Seagate Lyve Mobile has a clear scalability issue. If you need to sync more/larger files, you'll need to invest in more/larger Seagate devices. And, to support continuous data flows or continuous cloud import, you'd need to buy multiple Seagate devices and schedule frequent imports — a process that significantly increases the costs (i.e., purchasing expensive Seagate technology and paying for many imports) and complexity (tracking and managing all devices and upload processes) of your data ingestion operation. In such a setup, there's lots of room for errors that interrupt workflows and introduce the potential for data loss.
Since every device can share and receive data, Resilio Connect enables you to organically scale your environment.
In other words, every time you add a new endpoint to your environment, you increase the sync speed, bandwidth, and resources available to your applications. For example:
In a 1:2 scenario, Resilio can sync your environment 50% faster than traditional solutions.
In a 1:10 scenario, Resilio can sync your environment 500% faster than traditional solutions.
Resilio can also sync files of any size, type, and number — in fact, our engineers tested and successfully synchronized 450+ million files in a single job. And, because of Resilio's horizontal scale-out replication, we've seen transfer speeds of 100+ Gbps per server (on reliable networks — at the edge, speeds are lower depending on what bandwidth you have available).
4. Sync Files in Any Direction Concurrently
P2P synchronization enables Resilio Connect to sync files in any direction, such as one-way, two-way, one-to-many, many-to-one, and N-way sync.
N-way sync is particularly useful for large-scale edge sync deployments. With Resilio, you can ingest data from the edge into the cloud storage provider of your choice and immediately sync it with every other endpoint in your environment — i.e., sync other cloud storage platforms/regions, other data centers, edge-to-edge, edge-to-core, etc.
The combination of P2P and N-way sync enables Resilio to perform horizontal scale-out replication and achieve transfer speeds of 100+ Gbps per server.
Businesses such as Blizzard Entertainment, Match.com, Skywalker Sound, Warner Bros, and more rely on Resilio Connect for blazing-fast synchronization, edge ingest, and more. To see Resilio in action, schedule a demo.
Versatility: Easily Deployed, Centrally Managed
When syncing data from the edge — and especially when syncing data across multiple edge locations that may be using different devices and on networks of varying bandwidth — ease of use and versatility are critical. By that, we mean that the sync methods and equipment you use should be able to support your teams and use cases in any scenario.
Seagate Lyve Mobile, for the most part, passes the versatility test. They offer physical devices of different sizes that accommodate various needs (e.g., mass-capacity mobile edge storage, smaller hard drives, etc.). You can upload data from your Seagate devices into any cloud storage solution (unlike other data shuttle solutions, like Azure Data Box). You can tailor your Seagate plan (number of devices, number of imports, monthly vs. annual, etc.) to suit your requirements. And you can transfer your data onto Seagate's storage devices in several different ways — e.g., NAS mode (plug it directly into your network), DAS mode (manually transfer data via a drag and drop interface, or automate the process using Lyve client software), or by connecting the Seagate device directly to your equipment and recording data directly on the device.
But Resilio Connect is a software-based solution that uses open standards and protocols to achieve a level of versatility that Seagate Lyve Mobile (or any other data shuttle solution) can't hope to match.
Deploy Resilio in Any Environment
Resilio Connect is flexible enough to support:
Any device: You can use Resilio with desktops, laptops, mobile devices (iOS and Android apps available), SAN, DAS, and most NAS devices.
Any operating system: You can use Resilio with Windows, Mac, Linux, FreeBSD, OpenBSD, Unix, Ubuntu, and more.
Any cloud storage provider: You can connect Resilio to any cloud storage service — such as Lyve Cloud, Azure, AWS, Google, Wasabi, Backblaze, MinIO, and more — and support hybrid and multi-cloud deployments.
This level of flexibility means that you can install Resilio on your existing IT infrastructure, at minimal cost and operational interruption, and begin syncing data in as little as 2 hours.
Resilio also provides continuous and reliable data access for remote systems. You can use an offline LAN connection to work and collaborate on files in remote locations, then upload when back online.
Shifo provides healthcare for underprivileged people living in remote communities. Before switching to Resilio Connect, they used Google Drive to sync documents across their field offices in over 3,000 communities across 8 countries — a process that was slow and unreliable.
"We sleep better because Resilio is there. That's a critical piece. You can't imagine how difficult it was for us (prior to Resilio): Delays, nothing being synchronized; now I don't hear any of those problems. Now we can focus on solving healthcare problems (instead of moving files)."
Learn more about how Resilio Connect helped Shifo reduce file delivery times from months to days.
Use Resilio as a File Gateway
You can use Resilio as an S3 file gateway for files stored as objects in the cloud. Resilio Connect's file gateway is designed to enhance efficiency and reduce costs because you can:
Download and sync files on demand: Through a feature known as Transparent Selective Sync, Resilio enables you to browse objects, download and partially download files (i.e., download only the parts of files that you need), and control which files get synchronized to which endpoints. This enables you to optimize workflows to suit your needs and minimize costs by reducing unnecessary data transfers.
Selectively cache files: You can choose which files get stored on local devices and which get saved in the cloud. This enables you to free up space on on-prem devices and maximize your storage. It also enables you to minimize expenses by storing frequently accessed files locally and reducing egress costs.
End-users can access files from a single, unified interface that operates much like Microsoft OneDrive.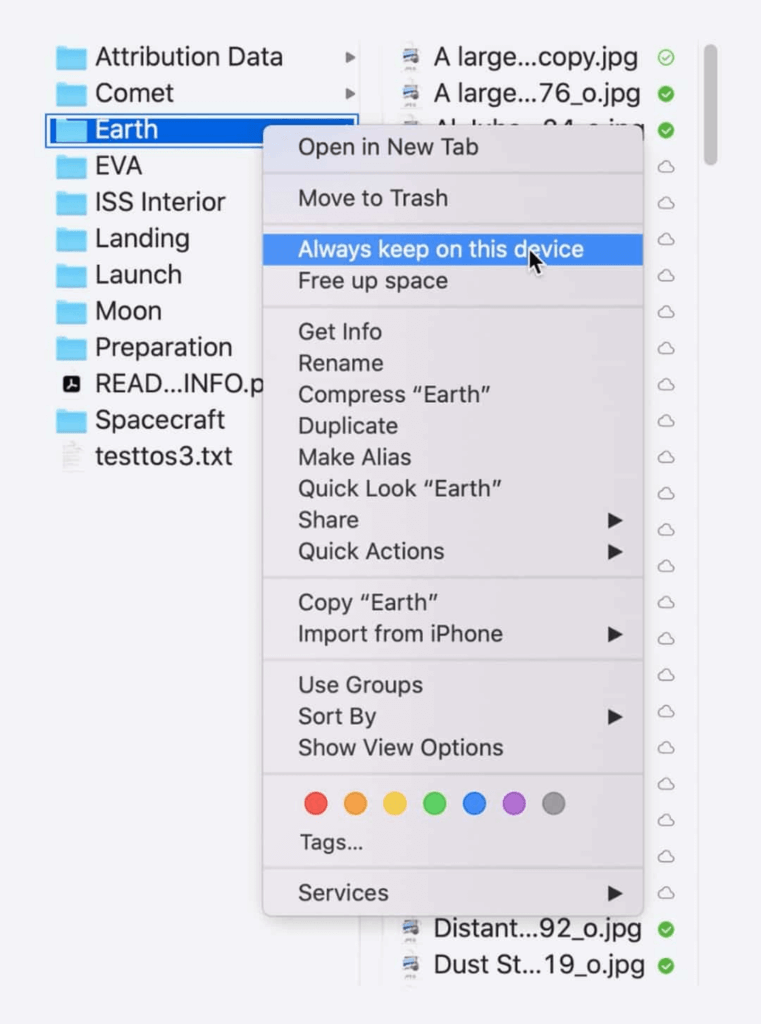 Manage Your Entire Environment from One Centralized Location
Resilio Connect provides granular control over your entire sync environment from one centralized location.
Through Resilio's Management Console, you can:
Configure replication parameters — such as buffer size, disk io, and more — in order to optimize resource utilization.
Monitor transfer jobs and receive real-time performance metrics.
Create and control replication jobs.
Manage and monitor every Resilio agent (endpoint) and job function across your entire environment.
Automate bandwidth utilization at each endpoint.
Create bandwidth profiles that govern how much bandwidth each endpoint has access to at certain times of the day and on certain days of the week.
Script any type of job functionality through Resilio REST API.
Manage files stored on any device or any cloud storage platform.
Native Security: Bulletproof Data Protection
Data security is a major concern for any organization, especially when transferring data over WAN networks.
Seagate Lyve mobile protects data on their devices through a combination of AES-256 bit encryption, Seagate Secure™ technology, government-grade crypto erase (i.e., your data is immediately erased from devices after cloud uploads), and ruggedized enclosures that keep the storage devices safe from physical damage.
Resilio Connect provides ironclad data protection through built-in security features that were reviewed by 3rd-party security experts, such as:
AES-256 bit encryption: Like Seagate Lyve Mobile, Resilio Connect encrypts files at rest and in transit.
Data immutability: Resilio stores immutable copies of files in the public cloud to protect you from ransomware and data loss.
Mutual authentication: Before sending data to any endpoint, that endpoint must provide an authentication key — ensuring your data is never delivered to an unauthorized device.
Cryptographic data integrity validation: Resilio ensures files always arrive at their destination uncorrupted.
User permission control: You can control who gets access to specific folders and files.
Forward secrecy: Resilio uses one-time session encryption keys for every transfer.
Use Resilio Connect for Remote and Edge Data Sync
Seagate Lyve Mobile is an excellent solution for reliable data transport from the edge. But its lack of support for continuous data flows, as well as the other shortcomings we described, inspire many organizations to seek an alternative solution.
Resilio Connect is a software-only solution that supports the same use cases as Seagate Lyve Mobile while also overcoming its limitations. Resilio Connect can:
Use any type of connection (VSAT, cell, Wi-Fi, any IP connection) and optimize data transfers over any network using a proprietary WAN optimization protocol.
Deliver blazing-fast sync speeds, Active-Active High Availability, multi-directional sync, and organic scalability through P2P replication.
Support any type of device, operating system, and cloud storage provider.
Provide granular control over your entire sync environment through one centralized location.
Use Resilio as an efficient file gateway solution to access files stored as objects in the cloud.
Keep your data secure with built-in, bulletproof security features (such as AES encryption, cryptographic integrity validation, mutual authentication, and more).
Businesses such as Blizzard Entertainment, Match.com, Skywalker Sound, Warner Bros, and more rely on Resilio Connect for blazing-fast synchronization, edge ingest, and more.
To see Resilio in action, schedule a demo.