The Fastest Way to Move Files
Resilio Connect is a scalable, P2P solution for moving and syncing data, that is trusted by leading companies in tech, logistics, engineering, and retail.
Get a Demo








Deploy Updates Over Any Network
Deploy system updates to emergency vehicles, vessels, and planes faster than anything you have seen before. Connect operates over your existing infrastructure and uses P2P technology and WAN acceleration to overcome any network limitation.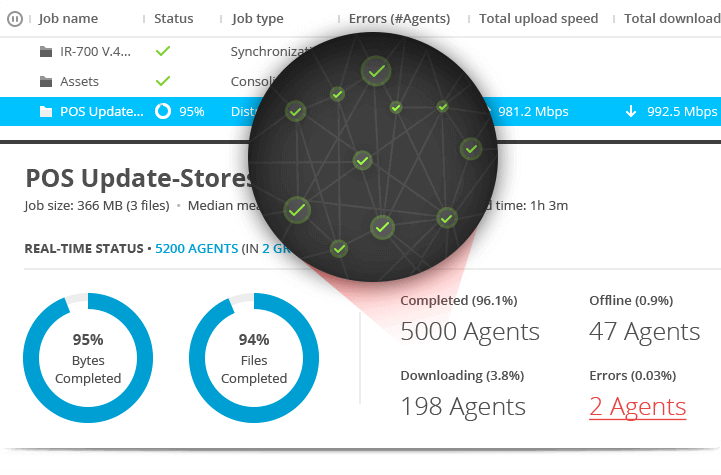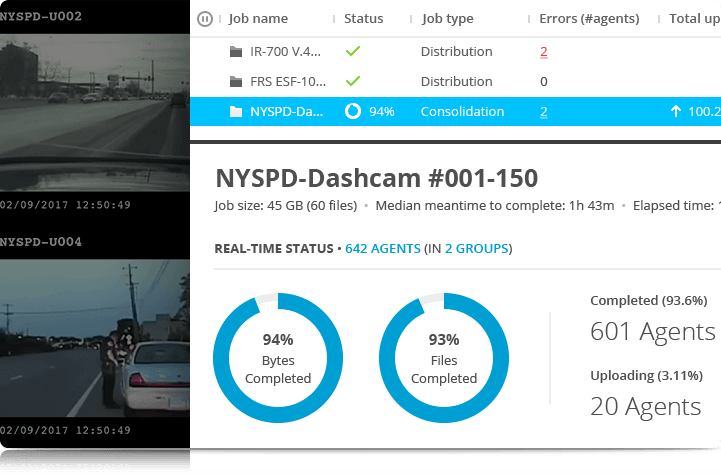 Collect & Backup Operational Data
Consolidate data from multiple vehicles with Connect's robust data consolidation system. Stop wasting time waiting for vehicles to come in close proximity to pull their data.
Synchronize Multiple Locations
Our distributed peer-to-peer architecture seamlessly combines the power of every endpoint to deliver data faster and more reliable than traditional point to point solutions.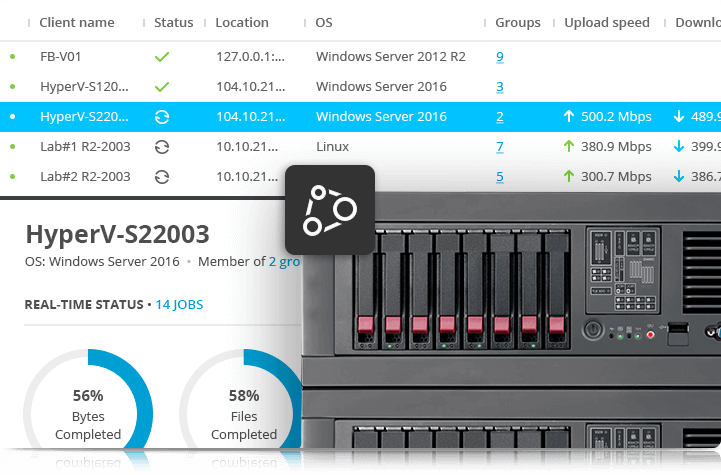 Watch Resilio Connect in Action
Distribute Data
Update software & data reliably. 100% file delivery success using our unique peer-to-peer architecture.
Selective Sync
Download only the files that they need, without having to replicate entire folders on every device.
Splunk Integration for Events
Pair Splunk & Connect together to receive detailed logs and notifications of Connect events through Splunk.
Consolidate Data
Consolidate data from 1000s of machines.  Collect performance reports, CCTV videos, transaction logs, or any other file you need.
Cross Platform
Run on any OS. Windows, Linux, OSX, iOS, Android, and all major NAS solutions.
Automate Workflows
Use custom scripts to install software, modify settings, etc. Scripts can be made OS-specific and written in any language.
WAN Acceleration
Utilize 100% of the available bandwidth in your network independent of distance, latency, or loss.
Bandwidth Scheduler
Set bandwidth usage limits based on time-of-day or day-of-week. Create different schedules profiles for different jobs and agent groups.
Control via API
Script any Connect functionality using a powerful REST API.  Manage agents, create groups, control jobs, or report on data transfers.
LDAP Authentication
Use your LDAP / AD credentials to manage Connect.
Private & Secure
Transfer files over end-to-end encrypted connections. State of the art security that was reviewed and verified by 3rd party experts. Your data only touches devices you own.
Multi-Level User Roles
Improve data management security by adding multi level admins. Limit who can modify settings and who is allowed to add new users.
"Our engineers deployed a successful test version in a hour - without reading a ton of manuals - that delivered the best result of all the solutions we tried" — Roman Sakno, Enterprise Architect at Wargaming.
Read Customer Story
"We were able to turn around graphic proofs quicker based on our staff's availability, versus forcing it through a bottleneck at a specific office. Connect has made us more efficient" — Ken Brubacher, Project Manager.
Read Customer Story

"If we bought about 40 additional servers it would have been pretty expensive. Resilio is a much cheaper solution for us right now." — Mario Jost, Systems Engineer @Mercedes-Benz
Read Customer Story
Trusted by 100s of Business Customers Worldwide
















P2P: The Fastest Way to Move Data
Scripting
Resilio Connect enables integration of scripts in transfer jobs. Each job has 3 scripting triggers: prior to starting a transfer job, after a machine completes a transfer, and after all machines complete a transfer.
You can use custom scripts to install software, modify settings, etc. Scripts can be made OS-specific and written in any language. For example, a job could be configured to trigger a Bash script on Linux, a Powershell on Windows, and Python on OSX.
WAN Optimization
Connect's WAN transfer protocol is optimized to overcome latency, loss, and dropped connections. Long distance connections bring high latency and some loss. Similar behavior happens when connecting over Satellite or 4G/LTE.
Resilio Connect utilizes 100% of the available bandwidth in your network independent of distance, latency, or loss. Legacy transfer protocols degrade by 50-90% over lossy or latent networks. For more info, read the P2P Article or try the Speed Calculator
Robust Reporting & Analytics
Connect's Central Management Console provides a comprehensive view of your system.
You can view real-time performance metrics, identify weak links, drill into the status of individual endpoints, and review the history of all executed jobs in your network for greater visibility.
Yes, it's another form... But if you make the effort, we'll show you how to move data faster over any network
Thank you for your form submission