In this article, we'll share several disaster recovery solutions you can implement into your IT infrastructure and cloud provider to protect your business in the event of unplanned outages, hardware failures, software failures, natural disasters, and more.
We'll begin with an overview of how our disaster recovery solution, Resilio Connect, enhances your DR strategy. Then, we'll cover 4 other solutions and answer some FAQs about disaster recovery.
Hot-Site Disaster Recovery Solutions
Resilio Connect overcomes latency between sites to protect files in real-time. The hot DR solution is highly resilient, protecting files against outages and data loss. Active-active HA ensures files are highly available and accessible across multiple sites. In the event of a disaster, all files remain available. Combined with real-time uptime updates, businesses can meet sub-five-second RPOs (Recovery Point Objectives) and RTOs (Recovery Time Objectives) within minutes of an outage.
Under the hood, Resilio's highly resilient, peer-to-peer (P2P) architecture eliminates single points of failure and speeds up replication across DR sites to protect files in production environments against all types of disasters. And with built-in WAN acceleration (called Zero Gravity Transport), Resilio optimizes file transfer over high-latency, lossy networks in remote areas with poor or unreliable connectivity. By contrast, across faster networks, Resilio efficiently utilizes allocated bandwidth — to replicate as fast as you need to.
The DR solution scales with your available network to protect as many files as needed. Because all files are kept current across all sites, there is no site-to-site failover required. In fact, industry-standard load balancers can be used in combination with Resilio to meet and even exceed your organization's RPOs and RTOs.
To learn more about using Resilio Connect for disaster recovery, schedule a demo.
1. Resilio Connect: Real-Time File Replication
Resilio Connect is a real-time file replication solution that uses P2P transfer and WAN optimization technology to deliver fast replication (20+ Gbps per server) over any network (including high-latency, lossy networks in remote areas). Files are instantly synchronized (or you can control the frequency of syncs) across your entire environment, enabling your organization to achieve RTOs in minutes and RPOs in seconds for hot site disaster recovery.
And as a vendor-agnostic solution, Resilio complements your backup vendor of choice and works cross-platform with any type of on-prem and cloud infrastructure.
Resilio's P2P transfer architecture makes it a highly resilient solution and enables it to meet and exceed goals for warm DR and active-active high-availability scenarios. Resilio supports a variety of disaster recovery scenarios, including hot site DR, warm site DR, cold DR, and offsite copy.
Organizations in gaming (2K Games, Blizzard), media (WB, Turner Sports), retail (Mercedes-Benz, McDonald's), and remote operations (Van Oord Marine Ingenuity, Northern Marine) use Resilio Connect to synchronize their data, enhance business workflows, and enhance their disaster recovery plan.
You can take a look at specific customer case studies here.
Resilio is particularly effective for disaster recovery, providing:
High-performance replication capabilities (P2P transfer and WAN optimization)
Resilience and high availability
Organic scalability
Ease of management and automation
End-to-end security
High-Performance Replication with P2P Transfer and WAN Optimization
Depending upon the industry and size of the business, downtime can cost upwards of $5,600 per minute. An effective disaster recovery strategy requires fast, low-latency replication of files for both backup (i.e., syncing your data to and between cold, warm, and/or hot sites) and recovery (i.e., quickly syncing data to meet RPOs and RTOs).
Most disaster recovery solutions replicate files using one of two point-to-point replication architectures:
Hub and spoke: In this setup, one server is designated as the hub-server and the others are client servers. Client servers can't share files with each other. All replication must first go through the hub server, which then shares the files with all the other servers one by one. The hub server must be online at all times in order for replication to work, forcing organizations to invest large sums of money in backup hub servers and failover setups.
Follow-the-sun: In this setup, files are replicated from one server to another one by one. For example, Server 1 shares files with Server 2; Server 2 then shares files with Server 3; and so forth.
Because both replication architectures can only transfer files point to point (i.e., from just one server to another), synchronization across your entire environment takes a long time, particularly when syncing large files or large numbers of files. They also open you up to points of failure — if one of your servers goes down or is on a slow network, every other server must wait for file transfer to complete before receiving their files.
But Resilio Connect provides faster, more reliable replication and synchronization through:
Proven peer-to-peer transfer architecture: In a P2P environment, every server can replicate files to every other server simultaneously. This means that all servers can take part in replication and there are no single points of failure. It also enables Resilio to sync files in any direction — one-way, bidirectional, one-to-many, many-to-one, and N-way — resulting in faster synchronization, backup, and recovery.
Real-time, low-latency replication: Resilio replicates file changes in real-time. It uses notification events from the host OS and optimized checksum calculations (i.e, identification markers assigned to each file that change when a change is made to the file) to detect and replicate file changes as they occur. You can also program periodic syncs as desired.
File chunking: When replicating a file, Resilio splits the file up into several chunks that can transfer independently from each other. And since every server can take part in replication, you can utilize the full bandwidth and simultaneously sync files across your entire environment 3-10x faster than traditional solutions.
Resilio Connect also utilizes a proprietary WAN acceleration protocol known as Zero Gravity Transport™ (ZGT). ZGT optimizes file transfer over high-latency, lossy WANs using:
A congestion control algorithm: ZGT uses a congestion control that periodically probes the RTT (Round Trip Time) to calculate the ideal send rate.
Interval acknowledgements: Most transfer protocols send an acknowledgement of each received packet. But ZGT sends acknowledgements for groups of packets in order to increase transfer speed.
Delayed retransmission: ZGT retransmits lost packets just once per RTT in order to decrease unnecessary retransmissions.
Resilio's WAN optimization protocol enables you to replicate files across cloud regions and zones, and synchronize files across DR sites no matter where they're located. It also enables synchronization at the edge of networks — i.e., you can sink files to and from areas with little to no network connectivity, such as from remote locations and at sea.
Resilience and High Availability
The combination of P2P transfer and WAN optimization makes Resilio a highly resilient DR solution.
Resilio supports active-active High Availability across disaster recovery sites, enabling load-balancing and fast failover. And if one server goes down, the necessary files or services can be retrieved from any other server in your environment, eliminating single points of failure.
Resilio Connect can also dynamically route around outages with connection-loss in order to maximize transfer speed and ensure your files always reach their destination.
Resilio's high-performance replication and high availability enable you to meet sub-five-second RPOs (Recovery Point Objectives) and RTOs (Recovery Time Objectives) within minutes of an outage.
Case Study: Employee Benefit Administration Company
A US-based insurance company uses Resilio Connect to move from active-passive to active-active high availability and enable continuous data availability.
"At the end of the day it's really about peace of mind and knowing that replication and sync just works all the time; no matter what: Resilio really put us in a good spot."
Learn more about Resilio Connect helped them reduce management time from 14 hours per week to less than 1 hour per week.
Organic Scalability
Traditional disaster recovery solutions can be costly and complex to scale. As their replication needs grow, organizations must invest large amounts of money in backup servers and failover implementations. And as the file sizes, number of files, and number of endpoints increases, full synchronization of data takes longer to achieve.
But Resilio Connect is organically scalable. Since every server with a Resilio agent can take part in replication, adding more servers to your environment only enhances performance — i.e., provides more available CPU, memory, I/O, and network bandwidth.
Resilio can sync files of any size, number, and type. Our engineers tested and successfully synced 400+ million files in a single job. And you can also scale capacity by adding any type of free space — file, block, or object storage.
Case Study: Large US-Based Construction Company
A large US-based construction company uses Resilio Connect to manage the disaster recovery and business continuity of their VDI from a centralized location.
"Our file recovery times were substantially decreased with Resilio. Our recovery time took 3 or 4 days using DFSR and we could not meet our RTOs. Using Resilio Connect, we can restore a single file — in some cases in less than a minute — using the exact same IT infrastructure (servers, storage, and DFS namespace)."
Learn more about how Resilio helped them save $8.6 million in remote access to their graphics-intensive 3D workstations.
Easy, Centralized of Management and Automation
Resilio Connect is easy to deploy, manage, monitor, and troubleshoot.
Resilio is a vendor-agnostic, multi-cloud solution that supports your on-premise or cloud storage platform (such as AWS, Azure, Oracle, and more), and also offers iPhone and Android apps. It can be deployed on-premises, in cloud environments, and in hybrid cloud scenarios.
It's an agent-based solution that can be deployed on your existing infrastructure (eliminating the need to migrate your data or learn any new systems) and begin replicating in as little as 2 hours. And IT admins can combine storage capacity from any type of storage platform (NAS devices, SSDs, hard drives, and storage systems).
With Resilio's centralized Management Console, you can visualize, monitor, track, and configure all file replication globally for your disaster recovery services. It provides visibility into your environment through an easy-to-use interface, and real-time performance metrics and notifications.
You can adjust replication parameters such as disk I/O threads, bandwidth (create bandwidth utilization profiles for each server that govern how much bandwidth the server can use at certain times of the day and on certain days of the week), buffer size, packet size, file priorities, and more. And you can also use Resilio's powerful REST API to automate tasks through scripts and APIs.
Case Study: Large US-Based Data-Protection Company
A large US-based data-protection company uses Resilio Connect to improve time to file access across their enterprise.
"We like the single point of management. All updates can be made to one site and automatically propagated; our team can trust that all remote sites will be updated from a single point."
Learn more about how Resilio Connect helped them achieve active-active High Availability, increase access speed to virtual desktops, eliminate database corruption, and more.
End-to-End Security
Your disaster recovery solution must keep your files secure from malicious cyberattacks (such as ransomware attacks, malware, etc.) and corruption.
Resilio doesn't rely on 3rd-party cybersecurity, cloud services, or VPNs for data protection. Instead, it utilizes state of the art security features that were reviewed by security experts, such as:
Mutual authentication: Resilio only delivers files to designated endpoints, enabling you to airgap your on-prem environments.
End-to-end encryption: Resilio encrypts data at rest and in transit using AES 256.
Cryptographic data integrity validation: Resilio uses integrity validation to ensure files arrive at their destination uncorrupted.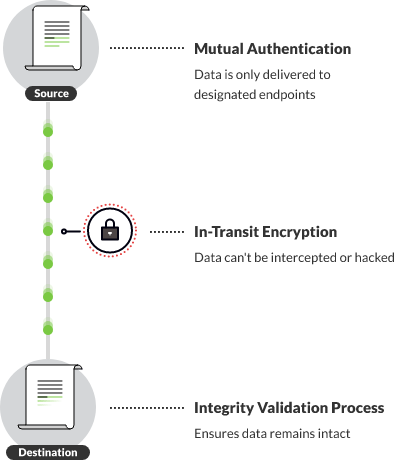 To start using Resilio Connect for disaster recovery, schedule a demo.
2. Acronis
Acronis provides disaster recovery software for various business setups and needs, such as malware protection, ransomware protection, IT disaster recovery, and more. Businesses can rely on Acronis for advanced endpoint protection management, cyber security, data backup, and recovery.
Acronis provides DRaaS (disaster recovery as a service) for Windows, Linux, macOS, Linux, iOS, Android, and more. And it can be used to protect virtual machines, such as VMware vSphere, Oracle VM Server, Linux KVM and more.
3. Quorum
Originally designed for military naval vessels, Quorum is now available for businesses to use for failover when production servers fail. Quorum is a snapshot based backup solution that performs incremental backups at a frequency of your choosing.
Because it backs up files on the host level (rather than the OS system level) Quorum enhances backup speed by 95%. It supports physical servers and any VM on hypervisor.
4. Veeam
Veeam's Disaster Recovery Orchestrator enables businesses to minimize data loss and reduce recovery time in their business continuity plan.
Veeam enables businesses to automate the backup and data recovery process, as well as create DR documentation plans, test and carry out DR drills, and apply role-based data, app, and file access for compliance.
5. Zerto
Zerto provides a continuous software experience for disaster recovery, backup, and data mobility for on-premises and cloud-based environments.
With Zerto, you can automate and streamline backup processes in order to accelerate IT initiatives and focus on business needs. Zerto provides continuous data protection, orchestration and automation, and analytics.
Enhance Disaster Recovery with Resilio Connect
Effective disaster recovery solutions and strategies are critical to preventing the interruption of business operations, maintaining business continuity, protecting critical data, and avoiding reputational harm and revenue loss. Resilio Connect enhances your disaster recovery strategy by:
Fast replication: Resilio's P2P transfer architecture enables all endpoints to take part in replication, resulting in transfer speeds 3-10x faster than traditional solutions. This enables quick synchronization to disaster recovery sites along with speedy recovery times.
High availability: P2P transfer enables active-active High Availability by turning every endpoint with a Resilio agent into a backup server.
Resilience: Resilio's WAN optimization and dynamic rerouting ensure that files always reach their destination regardless of network connectivity.
Scalability: Resilio can replicate files of any size and number, and replication performance increases as you add more endpoints.
Centralized management and automation: Resilio is a flexible, vendor-agnostic solution that can be managed, monitored, controlled, and automated from one centralized location.
End-to-end security: Resilio's state-of-the-art security keeps your data safe from corruption and malicious activity.
Want to deploy Resilio Connect for disaster recovery? Schedule a demo.
Frequently Asked Questions
What's the difference between hot site and cold site disaster recovery?
A disaster recovery hot site is a backup facility that replicates the primary production facility. It includes the same software, hardware, and network connectivity as the primary center, and enables real-time backup of important data.
A cold site is a facility with the bare necessities for data backup. It doesn't have the same type of hardware and software as the primary facility, but includes basics such as power, cooling systems, and communication equipment. It's less costly to set up and maintain than a hot site, but doesn't handle the production workload or minimize downtime and data loss as well as a hot site.
A warm site is between a hot and cold site. It includes the hardware and network connectivity of the primary facility, but isn't fully-equipped and therefore can't handle the workload and provide the operational capacity of a hot site or the primary facility.
When should a hot site be used for disaster recovery?
The type of disaster recovery site you use depends upon your needs and, more specifically, your Recovery Time Objective. Since hot sites most closely resemble the primary facility, they minimize downtime and data loss most effectively.
Businesses that need to recover from disasters quickly (RTOs of 3 hours or less) should use a hot site.
Organizations that operate with less critical data and that can tolerate more downtime can use a warm site or cold site depending upon their needs.
What are the types of disaster recovery?
There are 5 types of disaster recovery:
Data center disaster recovery: Businesses that own and operate their own data centers must create backup data centers for failover when a disaster strikes at their primary facility. These data centers must replicate all or most of the central components of the IT infrastructure at their primary site.
Network disaster recovery: A network disaster recovery plan restores network connectivity for communication, data transfer, and application access in the event of a disaster.
Virtualized disaster recovery: Virtualized DR products enable businesses to replicate workloads at secondary sites or in the cloud. These solutions are flexible, easy to implement, and enable fast failover.
Cloud-based disaster recovery: Organizations can implement their disaster recovery in the cloud rather than at a physical site. This involves data backup to a cloud storage vendor and failover systems that restore systems when a disaster or disruption occurs.
Disaster recovery as a service: DRaaS enables businesses to outsource DR to a 3rd-party. These businesses will backup an organization's data on physical or virtual servers and manage the recovery process in the event of a disaster.
To learn more about using Resilio Connect for disaster recovery, schedule a demo.