The Mixhits Radio Music Experience Goes Real-Time with Resilio Connect
Introduction
Mixhits Radio uses Resilio Connect for server-to-server real-time data synchronization to consistently deliver its innovative music streaming service and enhanced music experience for business customers. 
‍
Through its streaming music service, Mixhits Radio is putting the fun back in background music for big name brands like Dunkin' Donuts, Ferragamo, LL Bean, and McDonald's, among others.  Mixhits Radio relies on Resilio Connect for real-time data synchronization to stream the Mixhits Radio music experience for thousands of their customers around the US.    Mixhits Radio gives their clients a variety of popular and custom-crafted, commercial-free playlists.  From Bach to Rock, Mixhits Radio curates and streams the right music for a variety of business environments across the US. 

Challenges
Mixhits Radio differentiates itself from other music streaming services by maintaining a high fidelity music experience, crafting creative playlists--and through continuous, real-time metadata delivery.  
‍
"It's absolutely critical that all data—including metadata—is kept up-to-date as music streams into the venue and to a listener," says Gary Hanna, CEO of Mixhits Radio.  "Any delay in synchronizing the metadata degrades the music experience. If a stream is 15 seconds behind the update, the metadata would be out of sync.  If metadata is out-of-sync, the program doesn't line up correctly." 
‍
The metadata associated with each song needs to be streamed in lockstep with the "now playing" music. To do so requires the metadata and songs to be current and "in sync" across all data centers.  If a listener opens up their music app and is connecting to the east coast data center, but they're listening to a stream coming out of Phoenix, there can't be any delay between songs as the music is streamed.  
‍
Hanna describes the worst case scenario when metadata is not delivered on time:  "Imagine having a listener open up their music app and the latest Katy Perry song is playing but the playlist says it's Taylor Swift!" Yet this is exactly what could happen using conventional replication and cloud storage.  Prior to Resilio, Mixhits Radio migrated to a major service provider with data centers located in Phoenix and Boston.  Mixhits Radio didn't have the option to directly connect the data centers with a low-latency connection and also did not want to pass data over a VPN.
‍
So the IT team thoroughly tested a shared drive cloud storage solution from a major cloud provider.  "This turned out to be a 6-month nightmare. It failed miserably," says Hanna. "When our music programmers made updates to the cloud—which could be any time of day or night, from anywhere—those changes needed to be instantly and automatically updated everywhere:  but they were not."

If an update is made in the west coast data center, for example, the change needs to be immediately visible in all other locations.  With the shared drive in the cloud approach, says Hanna, we incurred delays measured in hours.  Worse, there were constant file version conflicts during the synchronization process.  We could have upwards of 300 conflicts because the cloud drive could not sync correctly across locations.  The shared drive in the cloud was a nightmare for us. "It was time to look for an alternative solution," says Hanna. 

Solution
Mixhits Radio chose Resilio Connect Enterprise for server-to-server real-time data synchronization.  Using Resilio Connect over a standard Internet connection, Mixhits was able to keep all data, including metadata, synchronized in real-time across the US. 
‍
Resilio Connect is a software-only, agent-based, centrally managed solution.  Capabilities include:

Real-time performance up to 20x faster than conventional WAN optimization technologies and file transfer tools.


Automating all data movement in real-time (or on a schedule) and optionally using scripting or API automation.


Transparent global access - Resilio looks and feels exactly the same as familiar file management tools offered with Windows, Mac, Linux, Android, and other platforms.


Infrastructure-independent. Resilio supports any type of on-premise data center (network, servers, storage) and cloud provider, out-of-the-box.

Resilio Agents are installed on each device or within a virtual machine.  Resilio Connect agents support popular operating systems such as Windows, Mac, Linux, and Android, among others.  Connect also supports popular virtualization platforms, servers, storage, NAS devices, networks, and cloud providers.  
‍
In each data center, Mixhits Radio deployed a virtualized solution where Resilio Connect agents run within each virtual machine running Microsoft Windows Server 2016 and SQL Server on Microsoft Hyper-V virtualization hosts.  Resilio Connect is tightly integrated with the Windows Server 2016 NTFS file system, and able to detect and replicate changes rapidly and efficiently.
‍
The Resilio Connect Management Console is a centralized, web-based management system used to manage and monitor all job functions through an easy-to-administer graphical user interface. Job types include Distribution, Consolidation, Scripting, and Synchronization. Optionally, Resilio offers a complete API set to expose and automate all functions performed by the Management Console.  The entire system is centrally managed.  Automation simplifies configuring, controlling, and monitoring all aspects of data movement.  Optionally, scripting and a complete API are available.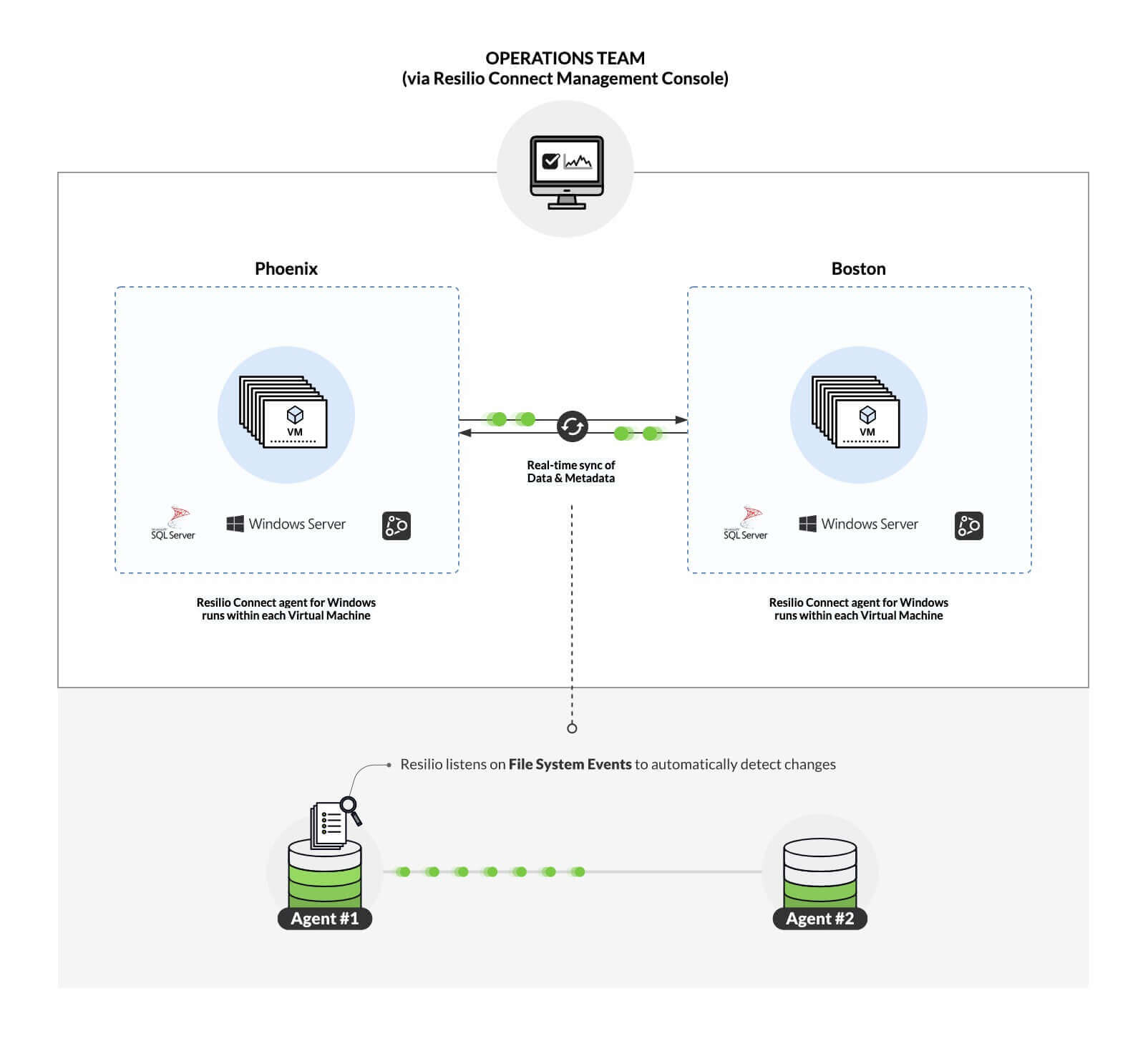 Mixhits developed its own proprietary music asset management software and workflow.  Once jobs are configured using the Resilio Connect Management Console, all management operations are automated.  Metadata integrity management and monitoring is provided in our backend software, says Hanna.  Our monitoring system performs routine, daily checks to ensure timestamps on files and metadata associated with songs is accurate and up-to-date.  All of these features just work with Resilio Connect. 

Impact
Resilio Connect enables Mixhits Radio to predictably and continuously deliver high-quality music experiences to its customers.  Metadata is always delivered on-time with songs, irrespective of the data center or source programming location.  Music programming updates can be anywhere. Listeners can also be located anywhere.  The Mixhits Radio music experience is consistently delivered over any network. 

"If a music program updates in one location, file changes are detected and propagated across servers within 2 seconds," states Hanna. "That rapid update and real-time synchronization has been a saving grace for us."– Gary Hanna, CEO of Mixhits Radio

Resilio Connect also saves the Mixhits Radio team considerable time to focus on what they do best: delivering their business customers the right programming for their unique environments.  "From a business perspective, the ability to have the Resilio solution transparently just work and never have to manually intervene has been beautiful," states Hanna.   One of Hanna's music programmers based in California (Hanna is based in Boston) receives a daily report automatically emailed to him through the Resilio Connect Management Console.  The report shows events such as job synchronization status and details such as the number of streams that have been successfully updated.  Any problems would appear in red; successful jobs are reported in green.  
‍
Hanna describes his colleague's reaction:  "It's so nice to be seeing nothing but green for months on end!"  Simply put, states Hanna, "Resilio Connect just works."  
Resilio Connect eliminates those once laborious, error-prone management tasks.  "To take the extra labor off of having someone check all day long in a variety of places—and knowing that all updates are current using Resilio—has just been amazing for us," says Hanna.  
Resilio Connect is saving the Mixhits Radio team about 60 hours per month.  "We have gone from spending 15 hours on average per week troubleshooting conflicts in the prior solution to spending no time at all with Resilio.  We configure jobs once in the Resilio Connect Management Console and never have to look at it again."   "Resilio is great to work with," adds Hanna.