Turner Sports now does graphic edits for live sports from their headquarters
Introduction
Once part of the Turner Broadcasting System, Turner Sports is now a subsidiary of AT&T's multinational WarnerMedia conglomerate. It oversees the broadcast of NCAA, NBA and E-League sporting events on channels like TBS and TNT. 

Turner Sports remains based in Atlanta, Georgia, but its media teams are on location at every sporting event they cover. "Our team will roll up in the truck, expand it and do all their production right there. And then when the game's over, the truck closes up and goes to another venue," says Brady Small, Sr. Production Engineer Sports Central Systems. 

The remote and the Atlanta media teams perform joint work on graphics and video files at each event. Data synchronization is a vital part of their shared workflow. Given that the broadcast is live, the speed and accuracy of the sync are of the utmost importance. With a view to streamlining that workflow, Small looked into several popular enterprise-grade sync solutions. He chose Resilio Connect after his overwhelmingly positive experience in real-world testing.

Challenges
#1: Synchronizing thousands of files at speed
"We have graphics teams that go out on-site for Turner Sports tent pole events like the NBA All-Star Game, NCAA Final Four and they need to be able to keep their content in sync. We have teams working at the site and in Atlanta that might need quick changes before they are sent to playback for air. It allows us to keep our graphics package in sync as users back in Atlanta and site make changes or use the render farm back home. " says Small. 

Turner Sports does most of its graphical work, called video compositing, in various software packages such as Adobe After Effects, Smoke, Resolve and Premiere. The remote media team is connected to a shared SSD server through 10Gbps LAN connections. Back in Atlanta, the render farm uses a 1.6-petabyte StoreNext SAN. The live broadcast makes this more than a casual server-to-server sync. Any visual enhancements to the basic transmission—things like replays, lower 3rds, sponsor segments—have to be generated and inserted into the TV feed in real-time. The media teams also have to be able to respond to last-minute changes. "Sponsors can pick up a sponsorship or drop out of it even on the day of the game, so we have to be able to re-render and fix those files quickly, get it out and playable to air," he says. "We basically have huge projects that we're keeping in sync at both sites, and that includes up to about two million files in the sync. I've used other products before, and we had trouble keeping the sync going."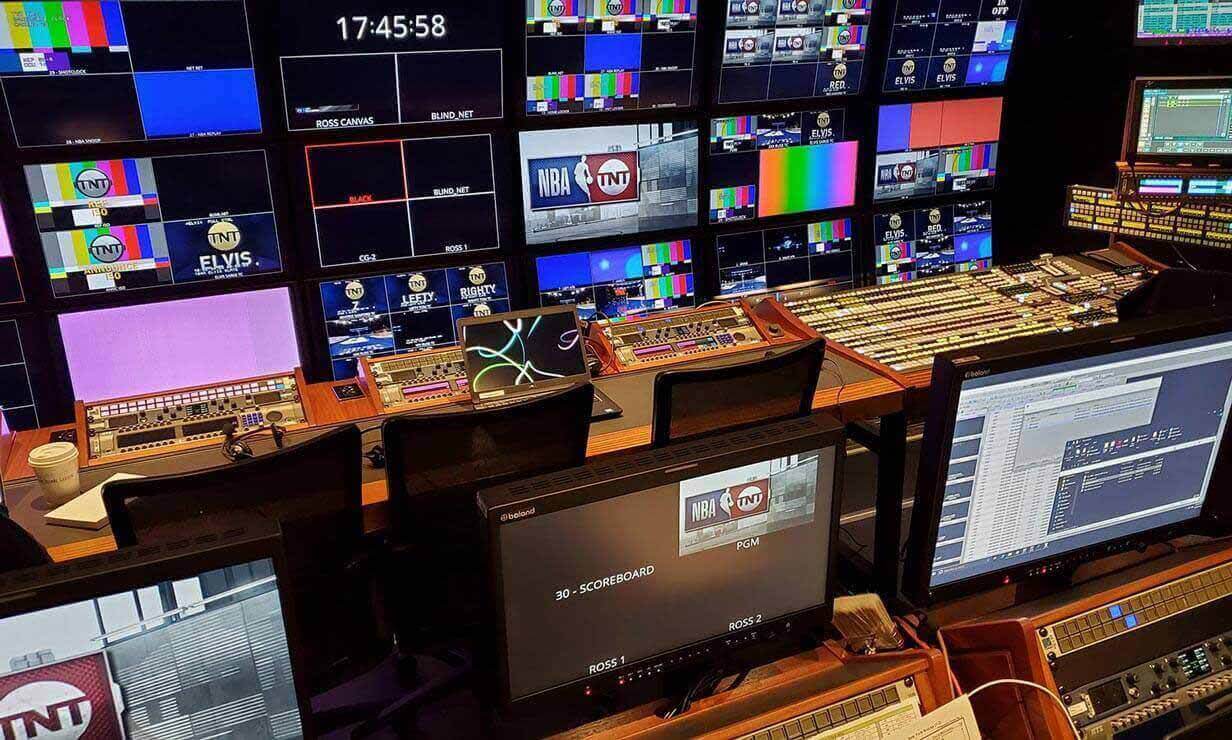 #2: Minimizing setup and breakdown time
The pressure on the Tuner Sports media teams doesn't necessarily let up once the game is over.  "We do a lot of breaking down and rebuilding," Small says. After the game, the remote media team might head back to Atlanta or travel with the truck directly to the next sporting event. That's why it's important for them to be able to break down the remote site quickly and efficiently.
‍
In the past, the onsite team had to wait until the latest versions of the shared files were synchronized with the Atlanta server once the game was over. The success of the sync then had to be verified with the Atlanta team. That cost valuable time. And when the Turner Sports media team is setting up for an event, it's also a priority to keep prep time to a minimum without sacrificing precision. "When you've got about 4,000 files you have to worry about flying across for a show, timestamps aren't something you want to keep track of. Which is the newer file? It could be, 'Oh, this one was for Taco Bell. No, this one's for Macy's.'"

Solution
After demonstrating a successful proof of concept with Resilio Connect, Turner Sports put it into play while broadcasting an NBA All-Star Game. That worked so well that they gave it another run at the end of the Final Four. 

During these two real-world trial runs, Resilio Connect didn't just showcase its ability to create a seamless workflow between the onsite team and the Atlanta team. Its speed and reliability also enabled them to pack up as soon as the broadcast was finished.

"At the end of the show, we basically just walked away and turned everything off. Everything was synced back at home, and I didn't have to worry about keeping the line-up or anything like that. It was already back on our server in Atlanta."– Brady Small, Sr. Production Engineer Sports Central Systems. 

That set the standard for the workflow Turner Sports uses today with Resilio Connect at its core. Resilio syncs the files on the local server in the media truck to the SAN in Atlanta via the WAN (usually a standard 1Gbps Internet connection or private layer 3 circuit). Using a predetermined project folder, both teams work on common files in real-time from their respective servers. Unlike other solutions, Resilio Connect handles Turner Sports' timestamps and massive file counts with ease. 

"One of the biggest things I like about Resilio is that I can keep a local onsite copy of whatever they're working on. They get the fast and easy access of having it on the local server, and then all the changes—everything—gets synced back to Atlanta. They fly home, and it looks like they were working at their desk the whole time."

Impact
With Resilio Connect at the heart of its compositing work, Turner Sports has increased the smoothness of its remote broadcast operations as well as its setup and breakdown routine. The optimization has even attracted the envy of at least one other major TV network. "They heard about my workflow, where my graphics guys were on site doing their work and having it rendered in Atlanta. They came over to look, and they were like, 'How on earth are you guys doing this?'" Small says that Resilio Connect and an open mind have helped to keep them on the cutting edge of their industry.

"We here at Turner Sports like to try new things. If there's something new, I'm always willing to jump into the pool and try it out. Some people are stuck in their old ways and workflows. Well, there might be a better way. For us, that's Resilio."– Brady Small, Sr. Production Engineer Sports Central Systems.