Zerto is a software-only DR solution that runs in virtual machines for on-premises, cloud, and hybrid ransomware/disaster recovery.
It's designed for site-to-site DR and backup for apps and other data running in virtual machines. Zerto's key innovation is continuous data protection (CDP), where, in theory, the administration can "rewind" to a previous point in time if needed. The bottom line is that Zerto is a solid choice for VM-based data backup and basic DR between sites.
It provides continuous data protection through a change journal as well as near real-time replication and automated failover. Another cool feature is that it maintains time-stamped copies of files in journals for recovery to specific points in time. It enables sub-10-second RPOs (Recovery Point Objectives) and RTOs (Recovery Time Objectives) in just a few hours.
While this all sounds great on paper, Zerto suffers from its point-to-point design and is suitable only for apps and data running on virtual machines.
The challenges with Zerto's VM-only point-to-point architecture include:
Zerto only runs on VMs, not containers or directly on physical hardware.
Only protects data one-way, between two sites–a single source and single target. If one site goes down, there needs to be a full failover to the secondary target site.
Cost. While we don't have specific pricing, we've heard Zerto is expensive.
Other issues to consider if you're looking for a Zerto alternative include:
Zerto can perform one-to-many replication. But it's limited to one source replicating to, at most, three targets.
Zerto's journal-based recovery can consume lots of storage space, increasing storage costs for DR plans.
Zerto works well in small environments but experiences issues with replication when deployed in large environments.
And there are other solutions that simply provide superior disaster recovery and data replication.
For example, Resilio Connect is a powerful Zerto alternative that can achieve sub-5-second RPOs and RTOs within minutes of an outage. And it can replicate from any number of devices to any other number of devices (many-to-many replication). To see for yourself how quickly Resilio can speed up replication and enhance your DR strategy, schedule a demo.
In this article, we'll share eight Zerto alternatives that provide fast, reliable data replication for disaster recovery and data migration — starting with a deep dive into our own real-time disaster recovery solution, Resilio Connect.
Resilio Connect is a real-time, peer-to-peer (P2P), software-only file replication system. It enables fast, reliable hot-site disaster recovery, warm disaster recovery, and cloud disaster recovery. It's a flexible choice for replicating files across multiple sites concurrently. Sites can be all on-prem, cloud native, or in hybrid clouds. Resilio is:
Versatile: Resilio is cross-platform and runs on any environment — physical or virtual. It also supports running natively on a variety of NAS systems (Synology, QNAP, TrueNAS, OSNexus, et al). OS support includes Linux, macOS, Android, FreeBSD, Windows, and more. It can run in VMs, containers, or on physical hardware.
Flexible: Unlike many other replication solutions, Resilio supports a variety of configurations, any type of connectivity, any storage (on-prem devices, any cloud provider, and hybrid deployments), and any data center location.
Resilient: Resilio uses a P2P replication architecture that eliminates single points of failure and enables Active-Active High Availability.
Reliable: Resilio's P2P (peer-to-peer) architecture and proprietary WAN acceleration technology enable it to quickly and reliably replicate data over any network.
Fast: Resilio syncs files of any size and number across any number of servers 3-10x faster than traditional replication solutions. With its horizontal scale-out replication, Resilio can reach speeds of 100+ Gbps per cluster. Resilio can also achieve sub-five-second RPOs and RTOs within minutes of an outage.
Organically scalable: P2P replication scales organically so that every endpoint you add to your environment only enhances replication speed and resources.
Easy to manage and automate: You can manage all endpoints from one unified location — Resilio's Management Console. You can also use scripts and APIs to program any type of functionality your replication job requires.
Secure: Resilio includes built-in security features that encrypt data at rest and in transit, maintain data integrity with cryptographic validation, and more.
To learn more about how Resilio Connect can enhance your business continuity strategy and provide you with blazing-fast, reliable replication across any number of endpoints, schedule a demo.
1. Resilio Connect
Resilio Connect is a real-time file sync software system that you can use in conjunction with or instead of Zerto's solution to achieve blazing-fast replication speeds and protect your enterprise data.
While Zerto can perform near-synchronous replication, Resilio performs true real-time replication. It uses optimized checksum calculations (identification markers that change when a change is made to a file) and notifications from the host operating system to immediately detect and replicate file changes.
Resilio is the best Zerto alternative for disaster recovery and file replication due to its:
Fast, resilient P2P replication architecture
WAN acceleration technology that optimizes transfers over any network
Easy, versatile deployment
Granular control over your entire replication environment
Native, state-of-the-art security features
Speed, Resilience, and Scalability through P2P Replication
Resilio's P2P replication architecture is a major key to its superiority at file replication and data recovery.
Zerto, like most disaster recovery software solutions, utilizes a point-to-point replication architecture. Point-to-point replication is configured in either a hub-and-spoke model (where data is first sent to a hub server that then shares the data with the other endpoints one at a time) or a follow-the-sun model (where data is replicated from one server to another sequentially).
Both of these models suffer from two major weak points:
Slow replication: Because replication can only occur between two servers at a time, syncing files (especially large files or large numbers of files) across multiple endpoints can take a long time. This issue is exacerbated as your replication environment grows and you need to sync data across hundreds or thousands of endpoints (for example, if you want to back up multiple servers to multiple DR sites).
Poor resilience: Both models introduce many single points of failure. If replication fails or gets delayed (due to a slow network) on any single endpoint, the other endpoints must wait to receive files, and full synchronization is delayed. And, if the hub server goes down in the hub-and-spoke model, replication can no longer occur.
Both of these issues force organizations to invest large amounts of money in backup servers and failover infrastructure.
But Resilio Connect utilizes a peer-to-peer replication architecture. In P2P replication, every endpoint with a Resilio agent can share files with or receive files from every other server in your environment simultaneously.
P2P replication enables:
1. Blazing Fast Replication Speeds
Since every endpoint can work together to replicate data simultaneously, you can utilize the full bandwidth of your environment and replicate data across DR sites much faster.
Resilio uses a process known as file chunking. When replicating data, files are broken into multiple chunks that can transfer independently of each other.
Imagine you want to sync a file across five servers. Resilio can break that file into five chunks, and each server can share file chunks with other servers simultaneously. In other words, Server 1 can share a file chunk with Server 2. Server 2 can immediately share that file chunk with Server 3, even before it receives the rest of the files. Soon, all servers will be working together, enabling you to sync your environment 3-10x faster than traditional solutions like Zerto.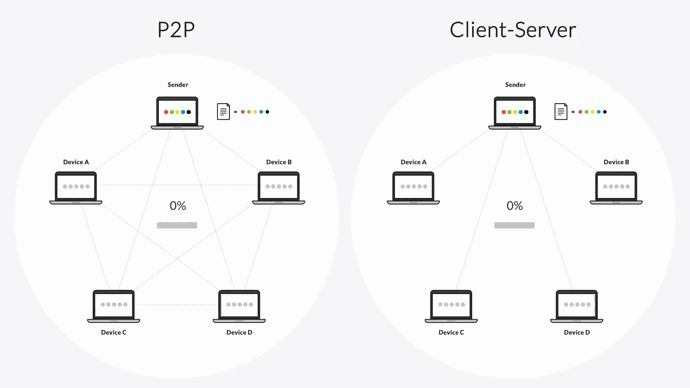 While Zerto promises sub-ten-second RPOs and RTOs within "minutes or hours," Resilio's blazing-fast P2P replication enables:
Sub-five-second RPOs (Recovery Point Objectives)
RTOs (Recovery Time Objectives) within minutes of an outage
2. Reliable Replication
Zerto's point-to-point replication architecture introduces single points of failure and requires you to program failover for specific endpoints (or groups of endpoints) to specific DR sites.
Resilio's P2P replication architecture eliminates single points of failure. If any server or network goes down, the necessary files or services can be retrieved from any other server in your environment. And Resilio can dynamically route around outages to ensure your data is always delivered to its destination.
P2P replication also minimizes data loss via backups and active/passive or active/active failover strategies. In the event of a disaster, data can be retrieved from any endpoint in your environment. And every endpoint can work together to bring your application back online and minimize downtime.
Resilio is also designed to overcome issues without human intervention. You can program rules that automatically resolve issues, such as file conflict resolution.
3. Omnidirectional Replication
Zerto can perform one-to-one, bidirectional, and one-to-many replication. But Zerto's one-to-many replication is limited — i.e., you can replicate from one source to a maximum of three targets.
Resilio can replicate in any direction — one-to-one, bidirectional, one-to-many (any number of targets), many-to-one, and many-to-many (n-way) sync.
N-way sync is especially useful for disaster recovery scenarios, as it allows you to:
Backup data from multiple endpoints to multiple DR sites simultaneously.
Speed up site recovery by having multiple endpoints work together to restore data to any site.
4. Organic Scalability
Some users have reported that Zerto doesn't scale well, and requires lots of management and troubleshooting in large-scale environments.
Resilio's P2P architecture enables organic scalability. Every endpoint you add to your environment only increases replication speed and resources.
And, since each endpoint can share files with any other endpoint, every endpoint in your environment effectively becomes a backup site — so you can non-disruptively sync and protect up to hundreds of millions of files across locations and disaster recovery sites.
Resilio can also replicate files of any size (even large TB-sized files), type, or number (we've successfully synced 450+ million files in a single job). It can achieve horizontal scale-out replication and reach replication speeds of 100+ Gbps per server.
Case Study: VoiceBase
VoiceBase is a speech-to-text software used for audio/video transcriptions, as well as knowledge extraction, speech analytics, and predictive analytics. They use Resilio Connect to quickly distribute their large speech model updates (50+ GB files) to 400+ production servers.
"Resilio Connect enables us to reliably distribute our code, specifically new language models in a fraction of time. These copy jobs now take an hour, down from eight. Best of all, once Resilio Connect was installed, it just works: We never need to manually intervene in any way."
Learn more about how Resilio Connect's P2P architecture and WAN optimization technology helped VoiceBase dramatically reduce software distribution time.
Bulletproof Transfer over Any Network Connectivity with WAN Acceleration
Whether you're backing up data from a server in a remote facility (with little/poor network connectivity) or replicating data across geographically distributed sites, you'll need a replication solution that can reliably transfer files across any type of network connectivity.
While Zerto's software employs some network optimization tactics — such as compression, bandwidth throttling, and deduplication — it doesn't use any type of WAN acceleration protocols.
Resilio Connect's proprietary WAN acceleration protocol, known as Zero Gravity Transport™ (ZGT), enables it to fully utilize any network to reduce latency and optimize transfers across any network.
ZGT enhances network utilization via:
A congestion control algorithm that constantly probes the Round Trip Time (RTT) to identify and maintain the ideal data packet send rate and maintain a uniform packet distribution over time.
Rather than sending acknowledgments for every packet receipt, Resilio sends acknowledgments for groups of packets once per RTT.
Resilio retransmits lost packets in groups once per RTT to reduce unnecessary retransmissions.
Because of ZGT, Resilio can reliably and predictably replicate data over any type of network connection, such as VSATs, cell (3G, 4G, 5G) Wi-Fi, and any IP connection.
Case Study: MixHits Radio
MixHits Radio is a music streaming service for businesses (such as McDonald's, Dunkin Donuts, and more). They use Resilio Connect to automatically sync their music and metadata in real-time for all their web servers across the US, which requires optimized WAN transfer.
"We have gone from spending 15 hours on average per week troubleshooting conflicts in the prior solution to spending no time at all with Resilio. We configure jobs once in the Resilio Connect Management Console and never have to look at it again."
Learn more about how Resilio Connect helps MixHits Radio sync their servers over the WAN quickly and efficiently.
Easy, Versatile Deployment That Supports Any IT Infrastructure
As an agent-based software, Resilio can be deployed on your existing IT infrastructure and begin replicating in as little as 2 hours.
Resilio Connect supports:
Any device: Use Resilio with servers, desktops, laptops, mobile devices (Resilio offers iOS and Android apps), virtual machines (such as VMware vSpheres, Citrix, hypervisors, and other VMs), and containerized servers, as well as NAS, DAS, and SAN devices.
Any operating system: Resilio supports popular operating systems such as Windows, Linux, Mac OS, FreeBSD, Unix, OpenBSD, and more.
Any cloud-based storage service: Resilio is a cloud vendor-agnostic solution that supports any s3-compatible cloud storage platform, such as Microsoft Azure, Google Object Storage, AWS S3, Cloudian, Ceph, MinIO, IBM Cloud, VAST Data, Wasabi, and Weka IO.
Any storage configuration: You can deploy Resilio in on-prem, cloud, multi-cloud, and hybrid cloud scenarios.
Universal file storage: Resilio uses open standards and protocols. Files are not stored in proprietary formats (as with some other solutions), so you always maintain full control over your data and aren't locked into any vendor.
Resilio Connect can also be used as a storage gateway that provides efficient, low-latency access to files stored as objects in any s3-compatible cloud storage platform. So if you're storing data in a multi-cloud scenario, you can manage and access your files stored across all of your cloud service providers all from one platform.
Resilio's object storage gateway helps reduce cloud storage costs and enhance workflows by:
Selectively syncing files to chosen endpoints, so you can minimize data egress costs in Azure, AWS, etc.
Automating syncs so employees don't need to manually sync file changes and can just focus on their workloads.
Enabling you to create automation policies that govern how data is stored, synchronized, and purged.
Performing full and partial downloads, so employees get faster access to the files they need while minimizing egress costs.
Providing all employees access to cloud files, wherever their workstation is (office, home, etc.), through a single interface that presents a unified view of all files for everyone.
As stated earlier, some Zerto users have complained that Zerto's customer service can be unresponsive (i.e., not responding in a timely manner) and unhelpful. Last year, when there was a prolonged outage with their analytics platform, Zerto provided no information or outreach about the issue.
Resilio Connect provides 24/7 customer support and responds to all issues within two hours. And Resilio Connect was designed to be a highly-resilient solution that works all the time.
Case Study: Data Protection Company
A global data protection company uses Resilio Connect to manage file delivery in their hybrid cloud environment, backup and restore files for their DR strategy, and reduce time-to-desktop for the company's VDI service built on VMware Horizon.
"Our file recovery times were substantially decreased with Resilio. Our recovery time took 3 or 4 days using DFSR and we could not meet our RTOs. Using Resilio Connect, we can restore a single file — in some cases, in less than a minute — using the exact same IT infrastructure (servers, storage, and DFS namespace)."
Learn more about how Resilio Connect helped them reduce time to global file delivery and access.
Granular Control over Your Entire Replication Environment from One Centralized Location
Zerto is a journal-based backup solution. All data backups are copied to a journal at the backup site/endpoint. Each backup endpoint has its own journal that stores time-stamped copies of data.
You can also create Virtual Protection Groups. VPGs group devices so that they replicate data at the same time to the same target site. You can create up to 3 VPGs, and configure it so one VPG fails over to a secondary data center, while another fails over to a cloud backup site.
Resilio's P2P architecture operates differently and provides the same capabilities as Zerto with more granularity.
While you can use Resilio to replicate data to a backup data center, Resilio effectively turns every machine in your environment into a backup site. It syncs your data across every device, and every device can share data with every other device.
You can also get more specific with how replication occurs across your environment by controlling which specific files sync to which specific endpoints, as well as when syncs occur. You can configure failover from any endpoint with a Resilio agent to any other endpoint with a Resilio agent.
Resilio enables you to manage all of your data replication across all on-prem and cloud endpoints from a single, centralized location via Resilio's Management Console. Through the Management Console, you can:
Visualize, monitor, track, and configure all file replication globally for your disaster recovery services.
Obtain visibility into your environment through an easy-to-use interface.
Receive real-time performance metrics and notifications.
Adjust replication parameters such as disk I/O threads, buffer size, packet size, file priorities, and more.
Create bandwidth utilization profiles for each server that govern how much bandwidth the server can use at certain times of the day and on certain days of the week.
Use Resilio's powerful REST API to automate tasks through scripts and APIs.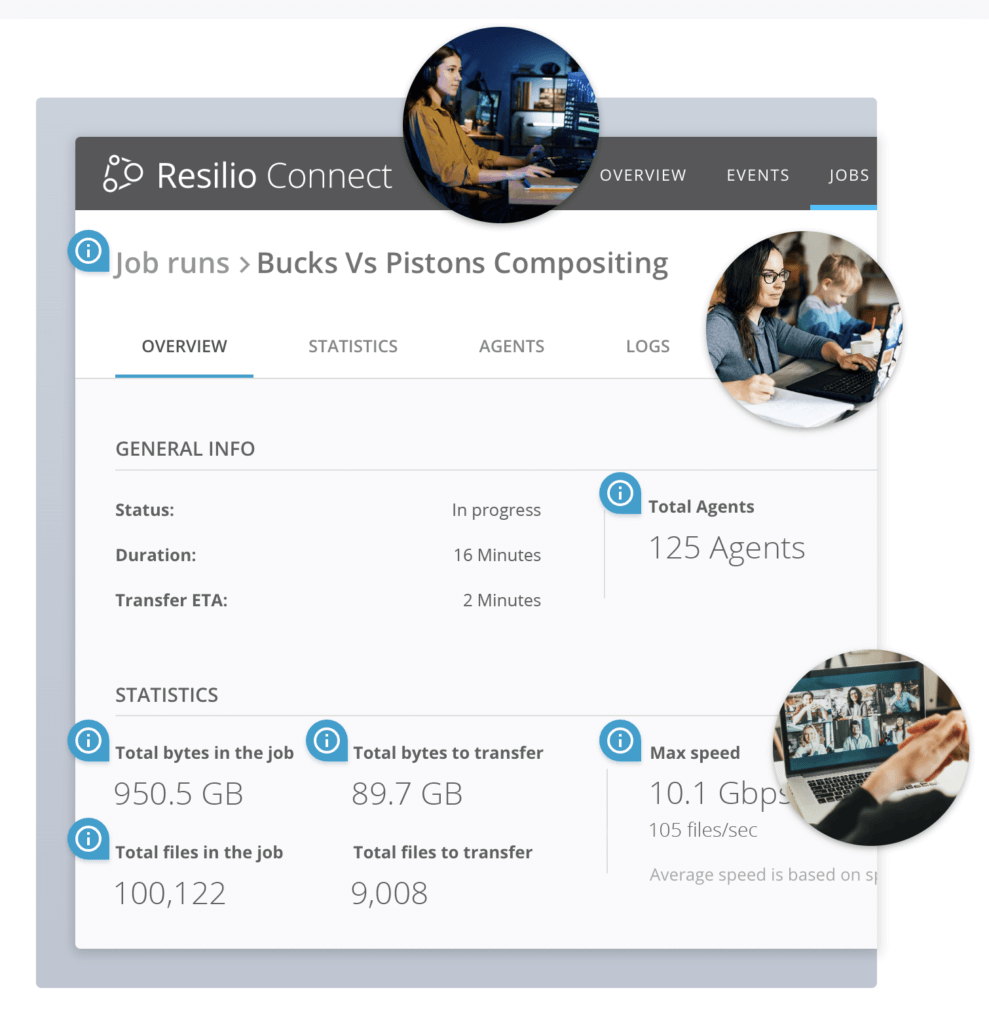 Case Study: Mercedes Benz
Mercedes Benz uses Resilio Connect to synchronize data for their apps across 40 dealerships in Europe. They used Resilio's granular management features to coordinate bandwidth scheduling throughout the peaks of the day so users aren't disturbed during the work day.
"If we bought about 40 additional servers, it would have been pretty expensive. Resilio is a much cheaper solution for us right now."
Learn more about how Resilio Connect helps Mercedes Benz to cost-effectively manage their data.
Data Protection with Built-In Security Features
As a data protection solution, Zerto employs top-quality security features to protect your data at both the production and replication sites.
Resilio also employs built-in, state-of-the-art security features that were reviewed by 3rd party security experts. It protects your data through:
Mutual authentication: Every endpoint is required to provide an authentication key before it receives any data, ensuring your files are only delivered to approved endpoints.
End-to-end encryption: Your data is encrypted at rest and in transit via AES 256-bit encryption.
Cryptographic data integrity validation: File integrity is preserved through cryptographic validation to ensure it remains intact and uncorrupted.
Forward secrecy: Every Resilio session is protected through one-time encryption keys.
Access control: You can control who is allowed to access specific files and folders.
To learn more about how Resilio Connect can enhance your business continuity strategy and provide you with blazing-fast, reliable replication across any number of endpoints, schedule a demo.
2. Rubrik
Rubrik is a cyber protection and recovery solution that protects data from insider threats and ransomware through immutable data backups and always-on replication. They market themselves as a converged data management platform. Rubrik allows you to continuously monitor data threats so you can remediate risks. It encrypts data at rest and in transit and air-gaps access to data at every level to prevent unauthorized access. In the event of a disaster or breach, it enables you to recover your applications and files quickly while avoiding malware.
3. Acronis Cyber Protect
Acronis is a solution for data security that performs integrated backups with anti-ransomware technology. It enables you to manage protection on every endpoint from a single interface. While it's built for the Acronis cloud, it also supports Google Cloud Platform and Azure.
4. Carbonite
Carbonite is a data backup software that provides automated backups and data management capabilities. They offer service packages at different price points, such as personal (1-3 computers), professional (1 server and 25 computers), and business (SMB to enterprise) use — although their solution is tailored to SaaS applications. It performs incremental backups and preserves snapshots of data so you can recover from any point in time.
5. Commvault
Commvault is a security, defense, and recovery solution designed for hybrid and multi-cloud deployments. It employs built-in security protocols (such as data encryption and access control) to protect data stored in the cloud, on-prem, and for SaaS applications. In the event of a disaster or data breach, Commvault enables instant recovery within minutes.
6. Unitrends
Unitrends is a DRaaS (disaster recovery as a service) solution that protects against ransomware, data loss, and downtime for data stored in the cloud, on-prem, on virtual machines, and more. It's an all-in-one managed service that enables you to protect data stored anywhere from a single interface. It's designed to easily scale to support environments and files of any size while reducing costs.
7. Druva
Druva is a simple, scalable, and secure data backup and management solution. It archives data so you can recover it from any point in time. It protects data through a zero-trust architecture with access control, built-in air-gap, immutability, and encryption. While it's a cloud-native solution designed by Amazon Web Service, it also supports many other cloud platforms such as Azure, GCP, Oracle, and more.
8. Veeam
Veeam is a data backup and ransomware recovery platform that protects enterprise-class data stored in many cloud platforms (such as AWS, GCP, Oracle, and more), on many operating systems (such as Windows, Linux, and MacOS), and in other environments (such as Kubernetes, NAS devices, and Microsoft Hyper-V).
9. Datto
Datto is a business continuity and data recovery solution designed to enable managed service providers to secure data for their clients. It protects from every form of data loss, including accidental deletions, ransomware, malicious actions, and hardware failure. With Datto, there is no reliance on the public cloud, as you can backup data to the Datto private cloud.
To learn more about how Resilio Connect can enhance your business continuity strategy and provide you with blazing-fast, reliable replication across any number of endpoints, schedule a demo.