Reducing Time-to-Access for Global File Services across the Enterprise
Introduction
Ninety-four percent of Fortune 100 companies rely on this renowned technology leader to manage and protect their business-critical data. Because of internal policies, they asked us not to share their name, but their IT team wanted to share their story to help other companies.

"Company C" is using Resilio Connect to reduce time to global file delivery and access for their hybrid cloud. The team came to Resilio because they needed to offer their global end-users faster access to VDI profiles, files, and applications. 

Using Resilio Connect, Company C also simplified backup and restore, reduced time-to-file-access for Microsoft DFS, and reduced time-to-desktop for the company's VDI service built on VMware Horizon and VMware Dynamic Environment Manager (DEM).  With Resilio, the IT team reduced time-to-desktop by 90 seconds on average for 1,000 remote users. As part of everyday work life, Resilio offers a dramatic improvement in access to user profiles, files, and applications.  

"Our file recovery times were substantially decreased with Resilio.  Our recovery time took 3 or 4 days using DFSR and we could not meet our RTOs.  Using Resilio Connect, we can restore a single file—in some cases in less than a minute—using the exact same IT infrastructure (servers, storage, and DFS namespace). "

Challenges
Before Resilio, Company C faced ongoing challenges bringing their enterprise IT vision and architecture into production - such as managing and moving files locally and globally using the Microsoft DFS replication service, and relying on backup methods like NDMP.  

Another challenge was synchronizing files over the wide-area network (WAN).  Network latency to India averages 300 ms delays. This caused serious problems for DFSR (DFS replication): replicating files to their India office would sometimes take 1 to 2 weeks—or fail completely.  

With offices in many parts of the world, this was a major productivity bottleneck.  "Customers are waiting for their files during this time.  Dealing with business managers and users waiting for their data is not a good position for my team to be in.  Their data needs to be there when they need it." 

Combined with backup and restore challenges, these long delays severely impacted file availability and virtual desktop infrastructure (VDI) login times for over 1,000 users - of which 300-400 may be using the service at any given time. The more time it took to replicate files and update VDI user profiles, the longer it took for users to login and load their VMware Horizon-based virtual desktops.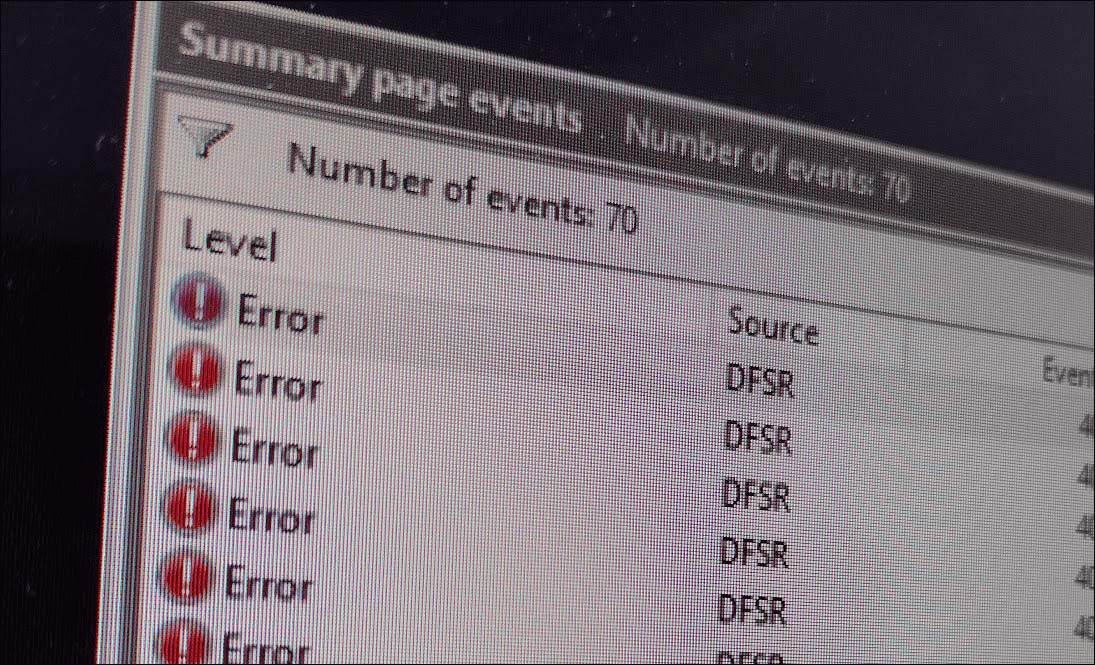 These delays also disrupted planned events such as maintenance and upgrades:

 "During this time, only 1 site would be available through DFS in an active-passive configuration. DFS required manual failover from site to site," said Company C's IT Architect.  "Worse, DFSR was constantly corrupting its configuration database, causing huge problems." 

Another big issue was backup and restore using NDMP - a complex, time consuming, and inefficient solution. "We could only do volume-level, LUN-based backup and restore.  That means every time we wanted to restore a single file, we had to first restore an entire LUN (storage volume)."  

In a nutshell, Company C envisioned a resilient, low latency, scalable, and highly available global file delivery system. 

Solution
Company C chose Resilio to bring this chaos under control.  As a starting point, the IT team chose to deploy Resilio Connect in a hybrid cloud.  Resilio Connect was installed on Windows Server-based file servers in 2 sites.  All servers are joined to the Microsoft DFS namespace.  

Architecturally, Connect is an Agent-based solution, and gents are installed on all devices that need to be synced. Resilio Connect's centralized, web-based management console is the hub to manage and monitor all agents and job functions. Company C's IT admins use this console to manage agents, create and run jobs, control speed, and deploy job instructions across the organization. Once jobs are running, administrators can monitor and collect statistical data globally.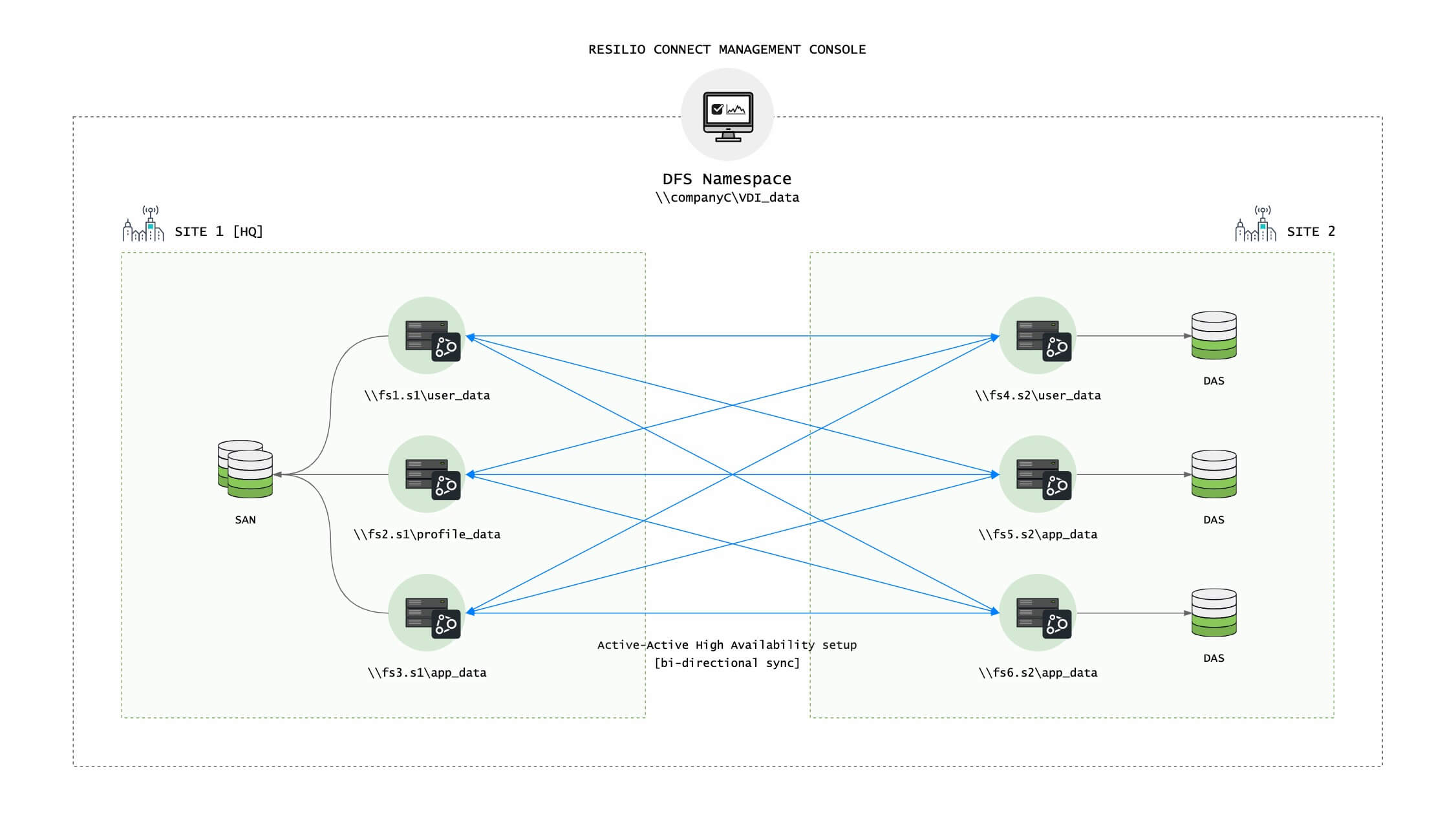 Impact
"Resilio has been transformational and highly reliable for us. Now our global file delivery for DFS and VMware Horizon just work.  We also like that Resilio is easy to learn and just works in a reliable and consistent way," said Company C's IT architect.

"We now have a smooth, efficient, single point of backup. And we also have granular restore at the file level. The recovery points are now measured in minutes instead of hours or days."

"We like the single point of management. All updates can be made to one site and automatically propagated; our team can trust that all remote sites will be updated from a single point."

The following table provides a before and after snapshot of Company C. The chart describes their core storage and data movement challenges before and after moving to Resilio Connect.

Another key benefit is Resilio's single solution for speeding up access to all user data, profiles, files, and applications which are managed by VMware DEM. For VMware DEM, the IT team improved time-to-desktop for VDI user profiles, data, and applications by 1 to 2 minutes; averaging a 90 second speed up in time-to-desktop.  
‍
"Apps and users are able to access file updates much faster.  All sites are now kept in sync. Resilio's real-time sync feature is a big benefit."  
‍
The Resilio Connect solution for DFS gives the enterprise IT team active-active high availability (vs. active-passive),minimizing delays during planned and unplanned events, giving the IT team peace of mind when the need to update software and hardware.  

Deploying Resilio Connect (Before & After Diagrams):

Resilio Reduces time-to-desktop by 90 sec on average. Click diagrams to enlarge.

"There's no more troubleshooting errors," he says. "Through the Resilio Connect Management Console, the IT team has complete visibility into monitoring job status and progress.  It's easy to diagnose problems if needed. We can now see what's happening and where it's happening all through a single pane of glass in the RCMC. Alerts also provided. We simply set up email notifications and Resilio does the rest."  

What does this mean for his team and the rest of the company? All of this translates to reduced number of support calls and reduced costs. But most importantly, business leaders and other users across the entire organization have faster access to their files and applications.

Overview
This customer vastly simplified global file delivery and reduced time to file access for Microsoft DFS and VMware Horizon. Using Resilio Connect, "Company C'' reduced file recovery times from 3 to 4 days to under 1 minute. The solution enabled all enterprise users from EMEA and the US to have fast and predictable access to their files and applications, from any location.

Why Resilio?
Simplified and accelerated global file services for business critical applications, Microsoft DFS, and VMware Horizon Dynamic Environment Manager (DEM)


Reduced file recovery times from 3 to 4 days with DFSR to minutes using Resilio Connect


Reduce time to desktop for VMware Horizon users by 60-120 seconds


Enabled active-active high availability across sites through bidirectional sync of all user profiles, user data, and applications


Reduced total sync time across all sites by over 50% compared to DFSR.

"From a DR perspective, we likely saved $8.6 million in remote access to our graphics-intensive 3D workstations"— Head of IT, large US-based construction company (name withheld for privacy)
Read Customer Story
"Resilio really put us in a good spot. I can trust the file is getting replicated. Even folders with multiple targets get replicated. Compared to the previous solution, replication takes minutes vs hours or days with DFSR." — Head of IT, large US-based insurance company (name withheld for privacy)
Read Customer Story