Whether you're migrating entirely to cloud-based instances or using a hybrid cloud setup, replicating your data to the cloud can help your organization reduce costs, ensure the availability and accuracy of data, and make it easier to scale your operation.
But in order to fully access the benefits of cloud server replication, you'll need to use a replication solution that's optimized to quickly, reliably, and efficiently synchronize your data at scale — and across your cloud of choice.
In this article, we discuss 5 benefits of cloud server replication and how Resilio Connect enhances them to provide:
Resilio Connect is an enterprise-ready, agent-based server replication software that uses P2P file transfer and proprietary WAN acceleration technology to deliver the fastest replication speeds in the industry (10+ Gbps). Resilio is particularly well-suited for large replication deployments, and is the perfect solution for disaster recovery, data synchronization for remote/distributed workforces, VDI profile sync, and web and app server sync.
If you want to learn more about how Resilio Connect can provide your organization with fast, reliable, and scalable cloud server replication, schedule a demo.
1. Fast, Reliable File Access: Replication Speed & High Availability
Replicating your data across cloud instances ensures that your data is highly available and easily accessible, which is useful in many use cases:
Disaster recovery: Prevent downtime in the event of a network or hardware failure and ensure your data, websites, and applications can always remain online and accessible by customers or employees.
Web & app server replication: Site visitors and app users can access your data quickly on a server near them.
Geographically distributed workforces: Businesses that have multiple geographically-distributed sites can replicate their data across a combination of on-prem and cloud storage servers to ensure business continuity and quick access.
But the utility of cloud server replication can be negatively impacted by slow replication speeds and high-latency, so it's critical that you choose the right replication solution.
For example, most replication solutions use one of two point-to-point replication topologies: either client-server or "follow-the-sun."
In client-server replication, one server is designated as a hub server and the other servers are designated as clients. The hub server can share data with any client server, but the clients can only replicate their data to the hub server. So for Client Server 1 to share data with Client Server 2 (or synchronize data across your entire environment), it must first send that data to the hub server. The hub server will then replicate the data to the other clients one-by-one.
In "follow-the-sun" replication, replication occurs from one server to the other sequentially. So Server 1 syncs with Server 2. Then Server 2 syncs with Server 3. And so forth…
Because replication can only occur point to point (i.e., from a single server to another), syncing data across your entire environment can take a long time with both of these replication topologies. Users, employees, and site visitors may not always have the most up-to-date versions of files if they try to access your applications before synchronization is complete. And this problem gets worse as you add more endpoints (i.e., more servers you need to sync your data across) and as the volume of data grows (i.e., if you need to replicate large files or large numbers of files).
And if you're transferring data across WANs (wide area networks), you'll need a solution that can handle the high-latency and varying degrees of packet loss that occur over WANs.
Most server replication solutions use file transfer protocols that aren't designed for optimal WAN transfer. For example, TCP/IP — a commonly used protocol — treats packet loss as a network congestion problem, and reduces transfer speed to ease the burden on the network. Since packet loss on a WAN isn't due to network congestion, reducing transfer speed unnecessarily increases replication time.
Resilio Connect overcomes these challenges using a combination of:
P2P (peer-to-peer) file replication
Proprietary UDP-based WAN acceleration technology
With P2P replication, every server in your environment can share data with every other server without the need for cloud-hopping (i.e., sending the data to a hub-server first). And by using a process known as file chunking — i.e., splitting a file into several chunks that can transfer independently of each other — files can be replicated across your environment simultaneously.
For example, if Server 1 wants to share a file with the other 20 servers in your environment, it can split that file into several chunks and share the first chunk with Server 2. Once Server 2 receives the first chunk, it can immediately begin sharing that chunk with Server 3 (or any other server) even before it receives the complete file.
With P2P transfer and file chunking, every server can replicate data simultaneously, resulting in sync speeds 3-10x faster than point-to-point solutions.
Resilio Connect also utilizes a proprietary transfer protocol — called Zero Gravity Transport™ — that was designed specifically to optimize transfer over WANs.
ZGT uses a congestion control algorithm to calculate the ideal send rate across any WAN, and creates a uniform packet distribution over time to avoid overloading the network. It also sends packet acknowledgements for a group of packets (rather than each individual packet), and retransmits lost packets once per RTT (Round Trip Time) to reduce unnecessary retransmissions.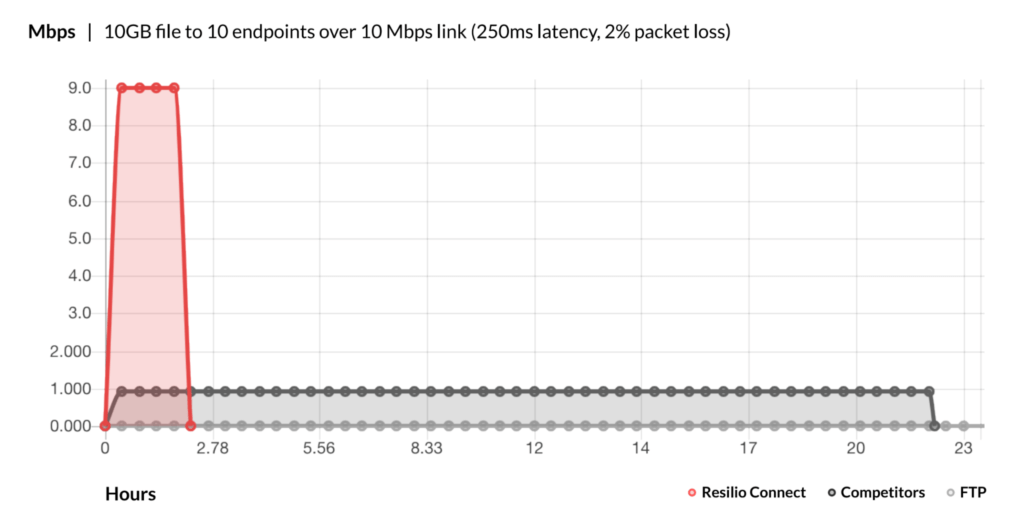 Try our transfer speed calculator to see how much time we can save for you.
The combination of P2P transfer and WAN optimization increases resiliency and make Resilio Connect one of the most fault tolerant solutions on the market.
In a P2P environment, every server functions as a hub server. So if one server goes down, Resilio can dynamically route around the outage in order to sync or retrieve files from the nearest available device. This makes Resilio ideal for disaster recovery scenarios, as it can easily meet sub-five-second RPOs (Recovery Point Objectives) and RTOs (Recovery Time Objectives) within minutes of an outage.
Case Study: MixHits Radio
Resilio user MixHits Radio, a music streaming platform, uses Resilio Connect to distribute and update their music metadata across all of their servers. "We have gone from spending 15 hours on average per week troubleshooting conflicts in the prior solution to spending no time at all with Resilio. We configure jobs once in the Resilio Connect Management Console and never have to look at it again."
Read more about how replicating with Resilio helped them save 60+ hours per month.
2. Organic Scalability: Replication Performance to Meet Your Needs
One of the greatest benefits of cloud server replication is the ability to easily and quickly scale your replication environment without the need to invest large sums of money in more on-premise data servers. Organizations can invest in cloud instances as it suits their budget and demands. And companies with geographically distributed workforces can create redundant cloud instances that provide faster, quicker access to data for their employees.
But using point-to-point replication services can make scaling your replication environment more challenging.
As stated in the previous section, when your file sizes, file directories, and number of replication endpoints increases, the performance of your point-to-point replication solution will suffer — i.e., synchronizing your data will take longer and data accuracy will be less reliable.
But Resilio's P2P transfer architecture makes it an organically scalable replication solution — the more servers you add, the better Resilio will perform.
Since every server can take part in replication simultaneously, replication performance increases with demand. You'll have more servers distributing files across your environment, and Resilio can balance the network workload across each.
For example, Resilio can synchronize data 50% faster than point-to-point solutions in a 1:2 scenario. In a 1:10 scenario, Resilio will sync 500% faster.
Resilio's engineers have also tested and successfully replicated 250+ million files in a single job. It supports files of any size and can replicate across any network — making it ideal for large, enterprise deployments with hundreds or thousands of endpoints.
Resilio Connect can also sync omnidirectionally — e.g., one-to-one, two-way, one-to-many, many-to-one, many-to-many (N-way sync) — making it a great solution for disaster recovery scenarios (either from cloud backup or physical storage solutions), software updates, VDI profile sync, and large web & app content replication deployments.
Case Study: VoiceBase
Resilio client VoiceBase is a speech-to-text software for audio and video transcription. They use Resilio Connect to distribute their speech model files of 50+ GB across 400+ production servers. "Resilio Connect enables us to reliably distribute our code, specifically new language models in a fraction of time. These copy jobs now take an hour, down from eight. Best of all, once Resilio Connect was installed, it just works: We never need to manually intervene in any way."
Learn more about how Resilio enables VoiceBase to disseminate their large files in 12% of the time as their previous solution.
3. Cost & Resource Efficiency: Low Costs & Consumption of Processing Power
Storing data with cloud providers rather than on-premise can produce significant cost savings, as you won't need to buy and maintain hardware and complex data storage infrastructures (e.g., servers, backup servers, failover systems, data centers, etc.).
While cloud data management is less expensive, you should still take steps to increase efficiency and control costs.
Many replication solutions (such as Syncthing) consume lots of power due to high CPU usage, memory utilization, and indexing and syncing files. Not only does this increase costs, but it can quickly drain the battery power of any mobile devices that it's replicating to.
But Resilio Connect provides the most efficient replication via:
Innovation
Resilio's designated engineering team and 24 hour customer support team are dedicated to innovation and improving the user experience. Resilio Connect is optimized to synchronize your data as efficiently as possible.
For example, in one of our latest updates, Resilio's engineering team reduced the average memory footprint required on replication jobs by 80%, significantly reducing the amount of physical memory required by each Resilio agent. We also optimized startup time, merging, CPU usage, indexing, storage io, and end-to-end transport — all resulting in energy and cost-efficient replication for our users.
Easy Deployment
Resilio can be easily deployed on your existing infrastructure (desktops, servers, storage, and networks) and begin replicating in as little as 2 hours. It can be configured cross-platform (on Linux, OS X, Android, iOS, and Microsoft Windows servers).
You can use storage (DAS, NAS, SAN) that your IT team already owns and understands, eliminating the need to purchase and learn new hardware. And admins can blend storage capacity from any type of storage platform (hard drives, SSDs, other NAS devices, and storage systems).
Management
Resilio also provides a Management Console that enables you to gain insight into your replication environment and control how replication occurs. You can use Resilio's REST API to script and automate any job functionality. You can program and receive real-time notifications and detailed file logs. And you can use the console to optimize performance and control resource use and costs by adjusting data replication parameters, such as:
Optimizing buffer size, packet size, and network performance.
Controlling disk io threads, data hashing, and file priorities.
Creating rules that govern how much bandwidth each server can use, and scheduling these rules for different times of the day or days of the week.
Optimizing your file servers to cache files on-demand and minimize cloud storage egress fees.
Case Study: Blockhead
Blockhead, a visual effects company, uses Resilio Connect to synchronize large, terabyte-sized video files across their offices. "Whereas some of the other solutions took a 'send the file, hope for the best' approach, Resilio Connect had a robust process around its synchronization. The methodical way that it goes about analyzing changes and quantifying what those changes are and then only transferring the difference, I think that is hugely powerful."
Read more about how Blockhead uses Resilio Connect to sync files across local offices and the WAN.
4. End-to-End Security: Protecting Your Data
Cloud data storage always comes with security risks, particularly for public cloud environments. You must ensure that the cloud storage solution you use keeps your data secure, particularly from ransomware attacks.
But your data is also exposed when in transit. And you need to take steps to ensure your data doesn't get hacked or corrupted when replicating it across cloud instances.
That's why Resilio Connect utilizes state-of-the-art security features that were reviewed by 3rd-party security experts to protect your data, including:
AES 256 encryption that protects data at rest and in transit.
Mutual authentication keys that ensure data is only delivered to designated endpoints.
Cryptographic data validation integrity that ensures data arrives at its destination uncorrupted and prevents data loss.
One time session encryption keys.
5. Flexibility: Use Any Storage or Cloud
Resilio Connect is also one of the most flexible cloud server replication solutions available, and you can configure your environment as suits your needs and use case.
Most cloud vendors' replication tools are limited to their proprietary cloud file systems. For example, Azure File Sync only works on Azure's cloud storage; Wasabi only works with Wasabi's; Backblaze only works on Backblaze; and so forth.
But Resilio builds on open file formats, open standards, and an open, multi-cloud architecture. It enables you to avoid vendor lock-in and use a variety of cloud storage services (such as Amazon AWS, Microsoft Azure, Google GCP, Wasabi, and Backblaze, and more) from object storage to file storage — pretty much any S3-compatible storage and a variety of file storage (cloud NAS) implementations. You can choose the best cloud NAS or file-based cloud services based on your applications, workflows, and use cases.
For example, if you already have two data centers using Windows servers, you can run a third site using Azure NetApp (or another cloud service) in the cloud for disaster recovery or remote workflows.
Resilio also supports popular operating systems — such as Microsoft Windows, Linux, Android, Mac, and more — and runs on industry-standard servers, laptops, desktops, and mobile devices running mobile apps (Resilio offers Android and iOS apps). You can also use Resilio's REST API to control and automate all aspects of cloud storage and integrations with applications.
Resilio users can browse and sync files on File, Block, or Object storage using familiar tools offered on operating systems like Mac and Windows. And Resilio's transparent selective sync capabilities enables transparent local file caching that is minimally disruptive to existing applications. All files exist in a dehydrated state and consume no disk space, but appear local and can be streamed on-demand when needed (at the fastest possible download speeds and with minimal lag) — enabling you to minimize cloud egress fees.
Resilio also runs on VMware, Citrix, and other virtualization platforms. And it can be deployed on your existing infrastructure and begin replication in as little as 2 hours.
Use Resilio for Fast, Reliable Cloud Replication
Resilio Connect is the best cloud server replication solution for synchronizing data across cloud instances because it provides:
Fast, reliable replication using P2P file transfer to simultaneously transfer files across your entire environment.
WAN optimization technology to efficiently and effectively transfer data over high-latency WANs.
Organic scalability that enhances performance as your replication environment grows, making it particularly well-suited to large, enterprise deployments.
End-to-end security to protect your data and ensure it arrives at its destination uncorrupted.
If you want to learn more about how Resilio Connect can provide your organization with fast, reliable, and scalable cloud server replication, schedule a demo.