Blockhead maximizes productivity and resources across multiple locations
Introduction
Blockhead is a visual effects studio headquartered in Auckland, New Zealand. Their CGI wizardry has been integral to commercials for H&R Block and The Cooperative Bank as well as feature-length films like Netflix's popular sci-fi thriller I Am Mother. When Blockhead opened a second office in Sydney, Australia, their creative teams needed some way to keep intricate digital video projects on the terabyte scale in sync across both locations. But that's not exactly easy when they're separated by more than 1,300 miles of the Tasman Sea. The Auckland-based IT consulting company Tangelo Services identified Resilio Connect as a way for Blockhead to maintain high productivity and file integrity between its offices.

Challenges
#1: Syncing Terabyte-Scale Media Projects via the WAN
High-resolution raw digital video files are typically measured in gigabytes, and Blockhead has to manipulate those videos frame by frame in order to add their computer-generated visual effects. With one second of video equating to 25 or 30 individual files, projects can easily grow to hundreds of thousands of files totaling 20TB. 

Working with large numbers of large files can be difficult enough in a single location. Yet Blockhead found itself faced with two geographically distinct teams of artists and creative directors, some of whom often went beyond the office to work with clients onsite. All of their progress needed to be synchronized in real-time across the WAN. "They were worried that by having two locations it was going to be difficult for them to maintain that creative link while still having people in Auckland doing work on Sydney projects and vice versa," says Tangelo CEO Abraham Treadwell.

#2: Ensuring Data Integrity in a Dynamic Environment
On top of having up-to-the-minute changes reflected across multiple locations, it was critical for Blockhead to ensure that nothing jeopardized the integrity of the video files. 

"There are any number of reasons why you might not be able to recreate that one moment in time when the footage was created. If that footage then gets lost because of some file corruption further down the track, the implications can be really huge," Treadwell says. 

Safeguarding data integrity can be complicated by the dynamic nature of visual effects work. In Blockhead's case, the teams in one city can shrink to 10 members and expand to 30 depending on the size and urgency of the project. Every individual needs the ability to leave off and resume work on shared files as quickly and as seamlessly as possible without fear of file corruption, or data loss.

Solution
Resilio Connect proved to be the single turnkey solution for Blockhead's demanding use case. They've deployed it in a setup that consists of a pair of Windows 2016 Server systems—one in Auckland, one in Sydney—using software RAID storage and solid-state caching mechanisms.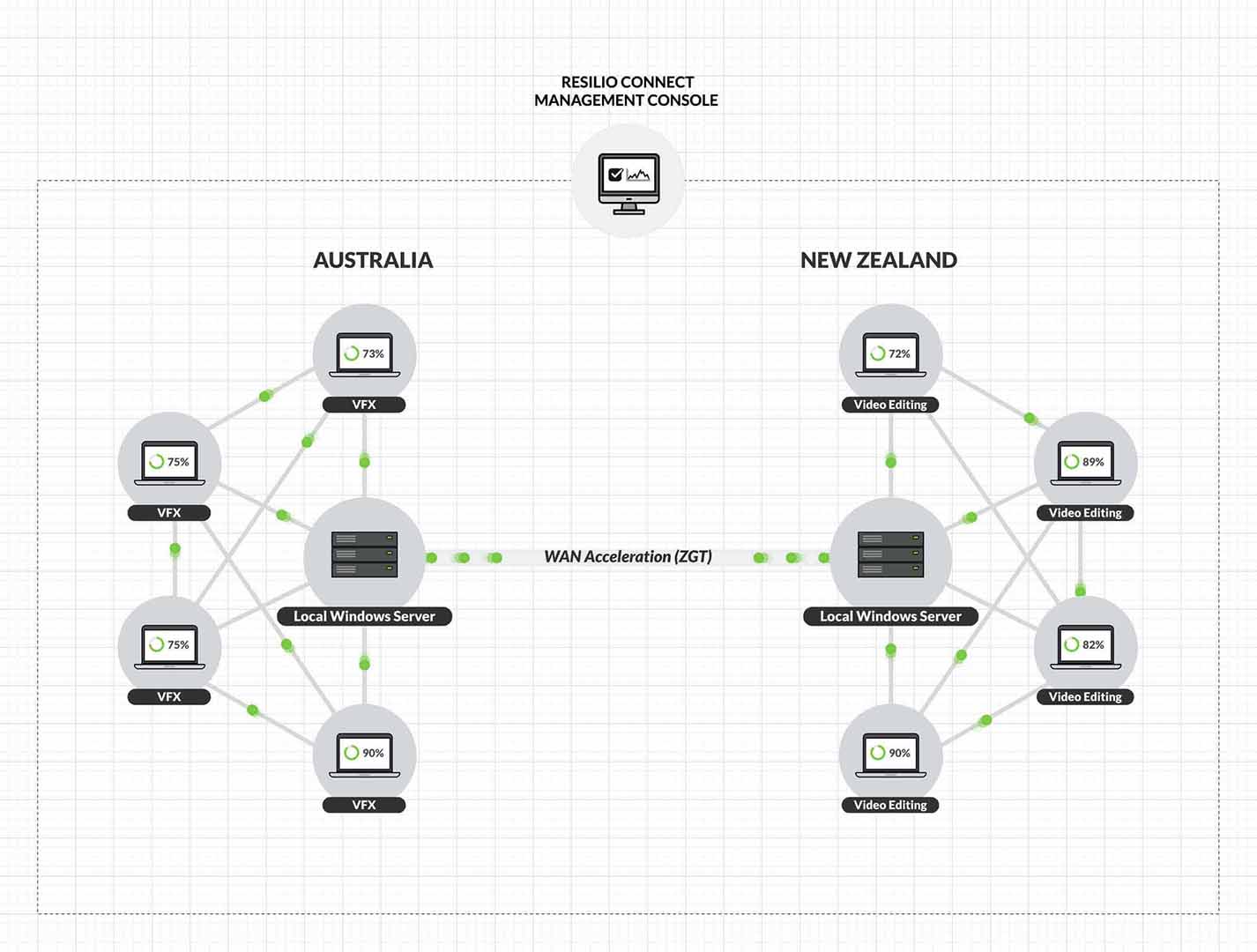 Those sites are connected via a 200 Mbps Layer 2 point-to-point link. Treadwell says that they evaluated multiple synchronization solutions, and the performance of Resilio Connect was clearly superior when it came to large files, data integrity and the process transparency of its web UI.  "Whereas some of the other solutions took a 'send the file, hope for the best' approach, Resilio Connect had a robust process around its synchronization. The methodical way that it goes about analyzing changes and quantifying what those changes are and then only transferring the difference, I think that is hugely powerful." 


As for workflow, Resilio Connect allows the teams to use a common file path for entire projects. This means that the Sydney and Auckland offices can each be working on the same project as a remote artist who's physically onsite with the client. Using the Resilio Connect macOS desktop agent, that remote artists can then easily play composite footage back for the client almost as soon as the office-based teams have enhanced it.

"Once the synchronization occurs, the footage is right where they expect to be. This has a reciprocal benefit as well, because the artist who is out in the field doesn't need to upload to an FTP if he needs to send a work in progress or an archive back to one of the facilities. He just saves it to the same place he would if he was onsite."– Abraham Treadwell, Tangelo CEO.

Impact
Resilio Connect has enabled Blockhead to scale smoothly to a second location and satisfy its expanding client base accordingly. What's more, it provides the company with greater operational flexibility and productivity. For example, they can better "load balance" across the two branches to minimize temporary downtime. And the ongoing synchronization means there's no prolonged waiting period between a job being completed and being ready for archive. 

"It allows Blockhead to work in a way that just doesn't happen in a lot of facilities. Competing solutions have a more complicated pathing scheme. They have more overhead and admin associated with making sure that people put things in the right place, and making sure that people have copies and send data to the correct office in advance of somebody commencing work," Treadwell says. "I see Resilio Connect as being absolutely pivotal to the way they work now. The media and entertainment industry is really an ideal opportunity for this technology."