Signiant's line of products (Media Shuttle, Jet, Flight Deck) may suffice for basic point-to-point (and optionally WAN optimized) file transfer. But when it comes to synchronizing files, Signiant performs poorly — and alternatives should be considered.
When larger files and larger numbers of files need to be transfered or synchronized, having the ability to reliably go "N-way"— or any way you need the files to move — is a key consideration.
Signiant (in products like Media Shuttle), like Aspera, does well with point-to-point file transfers and basic "multi-step" workflow integration. Signiant's integration into media workflow solutions — such as digital asset managers (DAM), media asset managers (MAM), transcoders — plus its ability to transfer data between companies makes it a good point-to-point file transfer solution for media & entertainment companies. But for companies that need to synchronize, distribute, or ingest files — especially large files and many files — in multiple directions — buyers take heed: Signiant alternatives should be considered.
For example, once post-production professionals start working in more complex environments requiring advanced distribution, ingest, and synchronization scenarios, point-to-point transfer (sending files from point A to point B) may not suffice. Customers potentially need solutions with bi-directional synchronization — i.e., syncing concurrently between two sites — or potentially one-to-many or many-to-many sync scenarios. While Signiant performs well with point-to-point file transfers, it can't perform true bidirectional synchronization; nor many-to-many synchronization.
Whether you're a Signiant user who wants to switch to a better file sharing solution (or find an additional file transfer software to use in conjunction with Signiant) or you're simply comparing and contrasting before making a purchase, we put together this list of 4 Signiant alternatives for large file transfers — beginning with our own file replication solution, Resilio Connect.
If you want to learn more about how Resilio Connect can help you optimize file synchronization, schedule a demo here.
Resilio Connect
Resilio Connect is a fast, highly-scalable, peer-to-peer (P2P) solution for real-time file synchronization. For companies that need to sync files fast and in real-time across any location for use cases such as remote work, site to site bidirectional sync, multi-directional sync (one-to-many, many-to-one, or many-to-many N-way sync) or cloud sync, Resilio offers a unique approach and superior alternative to Signiant.
Leading companies in media (Turner Sports, Skywalker Sound, etc.); tech and video games (Larian Studios, Electronic Arts, etc.); retail, healthcare, and engineering; (Mercedes Benz, YUM!, Buckeye Power Sales, etc.); and maritime remote operations (Northern Marine Group, Linblad Expeditions, etc.) rely on Resilio for:
Remote work
Disaster recovery
Server synchronization
Software updates
VDI profile sync
And more
Unlike Signiant, Resilio uses a P2P (peer-to-peer) transfer architecture and a proprietary WAN (wide area network) acceleration protocol that optimizes file delivery over long-distance, high-latency networks. Both P2P and WAN enable Resilio to provide faster transfer speeds, bidirectional transfer, and easy scalability to synchronize data between any number of servers.
Superior Synchronization with P2P Transfer & WAN Acceleration Technology
In Signiant's point-to-point transfer model, files can be transferred between, at most, 2 computer systems. For example, this could be a one-way transfer between device A and B. Or it could be a hub and spoke model — i.e., when device A (one spoke) needs to transfer to device C (another spoke), the transfer must first go through system B (the hub). This becomes problematic for synchronization and distribution scenarios where files need to be CONCURRENTLY transferred or sync'd to multiple systems in parallel.
Not only does this reduce transfer speed (as the hub server must complete a transfer to one device before it can begin on another), it also presents a single point of failure — i.e., if the hub server goes down, file synchronization fails.
Resilio's P2P transfer architecture makes it faster and more reliable. Each device in your environment can transfer to any other device in the environment without the need for cloud hopping.
Resilio also uses a proprietary WAN file transfer protocol known as Zero Gravity Transport ™. Unlike traditional transfer protocols (like those used by Signiant), ZGT provides high-performance WAN transfer by minimizing packet loss and high latency while maximizing transfer speed on any network.
ZGT accomplishes this by using:
Bulk transfer: The sender device sends file packets periodically, with a fixed packet delay, to create a uniform packet distribution over time.
Congestion control: ZGT's congestion control algorithm periodically probes the transfer speed to maintain an optimal sending rate.
Interval acknowledgement & delayed retransmission: Rather than requiring acknowledgements for every received packet (like other transfer protocols), ZGT uses interval acknowledgement for a group of packets. Each acknowledgement also provides information about lost packets. ZGT then retransmits lost packets once per RTT to minimize unnecessary retransmissions.
Resilio Connect's P2P architecture and WAN optimization enable it to:
Perform Parallel Transfer
Resilio uses file chunking — i.e., splitting files into blocks that can independently transfer to multiple destinations. As soon as a device in your network receives a file chunk, it can begin sharing that chunk with any other device.
For example, Device A can share a file chunk with Device B. When it receives that chunk, Device B can immediately share it with Device C before the full file transfer is complete. Device C can then share with Device D.
With all of the devices in your network sharing files concurrently, you can synchronize files across your system (regardless of file size) much faster than any point-to-point solution. And, as more devices are added to your environment, transfer speed increases. For example, in a 1:2 transfer scenario, Resilio Connect will be 50% faster than any one-to-one solution like Signiant. In a 1:10 scenario, Resilio will be 500% faster.
Another way to think about this is: as demand increases, so does supply. This makes Resilio Connect ideal for large deployments — i.e., when you need to transfer massive files, transfer lots of files (millions of media files, for example), and transfer files to many endpoints.
Perform True Bidirectional Synchronization
While Signiant can only perform optimized one-to-one transfers, Resilio can synchronize files bidirectionally:
One-to-one transfer
One-to-many transfer
Many-to-one transfer
N-way transfer
In a remote work scenario, Resilio's P2P architecture can send a file to as many places as needed, enabling everyone to instantly see changes no matter how big the file or where users are located.
And because Resilio Connect can leverage any device in your environment, the load on the network can be distributed amongst devices. For example, Resilio can route around a device on a slow or unreliable network and tap into a device on a faster network.
And unlike Signiant, you can also perform Selective Sync with Resilio. You can sync entire folders, just a few files, or nothing at all (so you can keep the folder available for a future sync).
Provide Active-Active High Availability
Signiant uses Active-Passive failover technology which, combined with their point-to-point architecture, slows down the failover process when multiple sites are involved. It also introduces a single point of failure. Your hub server must be available at all times. If it goes down — which can happen due to operating system errors, network disruption, hardware failures, and more — your infrastructure fails.
With Resilio's P2P architecture, every device (that's running a Resilio agent) in your network can act as a server. If one device fails, Resilio agents can always access data and services from other devices. Resilio has no single points of failure, and each device can request data and services from the device closest to it.
This makes Resilio the best solution for Active-Active HA. All of your files are synced across multiple locations, and your data is always available to end users across your entire organization. And your system becomes even more resilient as more devices are added.
Ingest from Edge to Core
Resilio Connect can acquire, ingest, and sync files from the far edge of the network (where networks are unpredictable and of variable quality) to a central location. For example, a user filming content at a remote location (e.g., sporting events, nature documentaries, etc.) can quickly upload and sync footage with devices across your network.
Provide Flexibility
Resilio provides tremendous flexibility to use any infrastructure and extend that to any cloud. Its flexible BYO storage enables it to be deployed instantly with your existing infrastructure (edge, on-premise, cloud, or hybrid cloud sync).
Resilio is also vendor-agnostic. You can get set up and begin syncing in as little as 2 hours.
Improve Performance
With P2P transfer and WAN acceleration, organizations can:
Attain faster network traffic: Large amounts of data can be transferred across your entire environment (and over the WAN) without performance being hindered by network congestion or data loss.
Reduce costs: Without the need to invest in backup servers, expensive hardware, or more infrastructure, organizations can reduce costs, streamline their infrastructure, simplify administration, and reduce the hassle of managing synchronization.
Achieve reliable transfer: Resilio dynamically routes around outages and device failures, enabling it to fully utilize any network connectivity. In a disaster recovery scenario, Resilio can meet sub-five-second RPOs (Recovery Point Objectives) and RTOs (Recovery Time Objectives) within minutes of an outage. And if synchronization fails mid-transfer, Resilio can perform a "checksum restart" and resume where it left off. All of this means that organizations can rest easy knowing that their files are synchronized and available to everyone across their entire system.
Secure File Transfer with End-to-End Encryption
3rd party security experts reviewed and verified Resilio's state-of-the-art data security. You can securely synchronize files over end-to-end encrypted connections using:
Mutual authentication: Resilio only transfers data to designated endpoints.
Cryptographic data integrity: Resilio validates data integrity to ensure your data remains intact and uncorrupted.
In-transit encryption: Resilio uses AES 256 to encrypt files in transit. Your data can't be intercepted or hacked.
Forward secrecy: Resilio uses one-time session encryption keys in order to protect sensitive data.
Centralized Management & High Visibility
With Resilio's dashboard, detailed event logs, and real-time notifications, you can always attain clear insight into the state of replication in your network.
You can also control and optimize performance by adjusting key parameters, such as:
Bandwidth usage: You can adjust bandwidth usage limits based on the time-of-day or day-of-week, and create schedule profiles for different agent groups and replication jobs.
Functionality: You can use Resilio's REST API to manage agents, script functionality, control jobs, report on data transfers in real-time, and more.
Network & storage stack: You can optimize the performance of file transfer by adjusting buffer size, packet size, disk io threads, data hashing, file priorities, and more.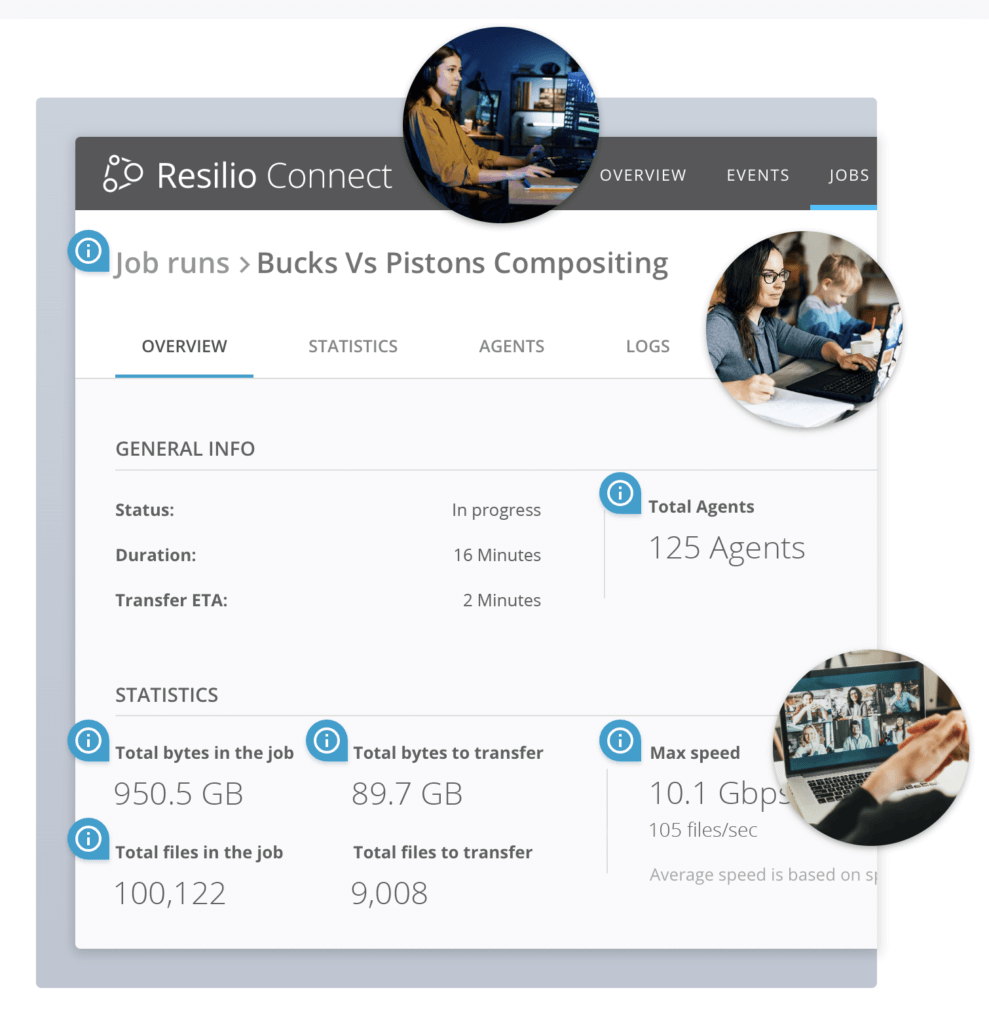 If you think Resilio Connect could be a good fit for your organization, schedule a demo or learn more here.
IBM Aspera
Aspera is a highly-scalable, user-friendly solution for transferring and syncing large data sets. Like Signiant, Aspera uses UDP to maximize WAN transfer speed and fully utilize network bandwidth. And its integration into media workflow ecosystems make it a great solution for media and entertainment use cases (e.g. post-production).
As a hybrid cloud solution, Aspera can be deployed on-prem, in the cloud, or both. And it uses blockchain technology to securely transfer your digital assets.
PeerGFS
PeerGFS is an enterprise-grade managed file transfer solution that helps organizations replicate data in real-time and improve productivity. It's a flexible solution that, like Resilio, can be deployed on-prem, using cloud storage, or hybrid cloud environments. While PeerGFS offers Active-Active HA, its point-to-point transfer architecture makes it slower and less reliable than Resilio.
Its management capabilities compete with Signiant and Resilio, enabling you to configure synchronization parameters to meet your needs. It's highly secure, using in transit encryption and Malicious Event Detection to protect your data.
GoodSync
GoodSync provides both a free and paid file transfer service, making it great for organizations seeking a cost-effective solution that can compete on pricing. It can backup and synchronize data in real-time on Windows servers, NAS, Linux servers, and mobile devices.
GoodSync also encrypts data in transit using AES-256. It provides detailed event logs and a change report so you can track and analyze replication in your environment. And it reliably transfers data using a sophisticated algorithm and bit-by-bit synchronization.
SureSync
SureSync is a one-to-one file transfer provider that automates real-time replication and makes synchronizing files to a secure FTP server simple.
Like other sync solutions, SureSync uses remote differential compression to only replicate changed file data. It provides reliable synchronization during network or file system errors by retrying operations at the block, file, and job level. You can monitor your replication replication and sync tasks using their Enterprise Status Panel interface. And SureSync's security mechanism enables you to control which users have permission to access certain sync jobs.
If you want to learn more about how Resilio Connect can help you optimize file synchronization, schedule a demo here.