Merge moved creative assets to the cloud, without sacrificing performance
Overview
MERGE is a full-service marketing and advertising agency with multiple offices in the US and Canada. MERGE discovered Resilio through our strategic technology partner, Zenplex. 

Through Zenplex, MERGE creative teams use Zenplex ZDAM for digital asset management and Resilio Connect for highly available and seamless cloud file access and delivery for remote work and global collaboration. The joint solution gives creative teams the freedom to work from anywhere to access and edit digital media of any size and type—stored in the cloud. 

The hybrid workflow is seamless and easy. MERGE creative teams use familiar Mac and PC desktops. In the background, the joint ZDAM and Resilio Connect solution rapidly and securely synchronize digital assets stored in the cloud, as if they were stored locally in the office. 

Challenges
To enable remote work, MERGE's creative team required immediate and easy access to their digital media assets working from home on a variety of desktop systems. MERGE envisioned the cloud as being a key enabler for remote work—and a strategic technology platform.  

However, as the company transitioned to the cloud, MERGE encountered a few speed bumps in the remote workflow. Integrating with cloud storage—and moving large digital assets to the cloud, across users' home networks—turned out to be difficult and in some cases impossible.    

"We have been working for the past several years to move as much as possible to the cloud. We had been successful in many areas, but when it came to moving the files—many of them large and abundant—we hit a roadblock," said MERGE's VP of Technology, Jason Dittmer.  "The creative department needed their workflow to just work, but moving to the cloud was a hurdle we had trouble getting over."

Solution
Zenplex worked closely with MERGE to assess these challenges and provide a solution based on ZDAM and Resilio Connect.  

"When Zenplex introduced us to ZDAM we knew we had a partner we could work with.  Merge and Zenplex developed a system that integrated ZDAM with Resilio Connect. This was the winning combination that finally allowed us to move our creative team assets to the cloud," said Dittmer. Zenplex ZDAM for smart, simple, and secure digital asset management enables teams to store, share, and access information and assets effortlessly and effectively to drive individual and organizational performance.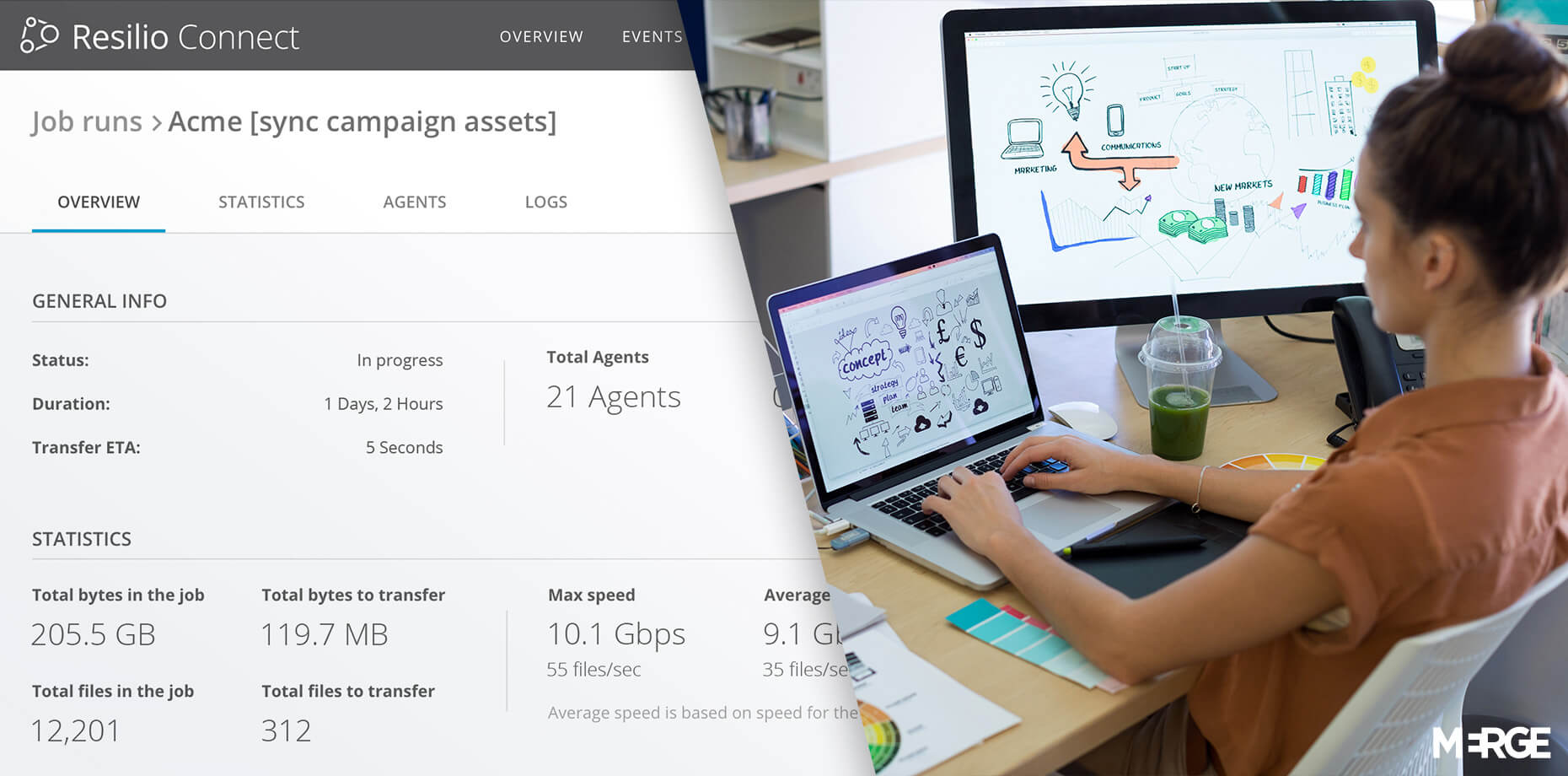 Resilio Connect is an agent-based solution that gives media customers an easy, fast, and flexible way to work remotely, collaborate globally, and automate file delivery across any location—including the cloud. Resilio Connect predictably moves files of any size and type—even 8K—over any distance.  Security is built in—and protects and encrypts files at rest and in flight, without the need for VPNs or 3rd-party security services. 

The remote work solution for creative teams is:

Easy. Nothing new for users to learn how to use.  Fast. Sync directly between your systems without the need to sync to the cloud first.  


Flexible. Store, access, and sync files with any OS, any storage, and any cloud—in any direction.


Workflow-friendly. Works with software and hardware your teams already use. 


Secure. Your files are always secure, protected, and encrypted end-to-end.

Use any type of storage or cloud. Resilio's cross-platform software runs on Macs and PCs and is compatible with popular editing and content creations tools like Adobe Premiere, Avid Media Composer, and DaVinci, among others.

Impact
Zenplex delivered a fast, secure, and seamless remote work solution for MERGE, powered by ZDAM and Resilio Connect. The solution enables MERGE creators to work and collaborate globally on assets of any size and type, right from their desktops. 

Dittmer says that "ZDAM and Resilio enable end-users to access and manage files using metadata and to work locally on their desktops with these large files without having to manually upload and download those files to work on them. The combination of these two products takes the work out of creative work and ensures that the files are always available, no matter where the user is located." 

"Clearly the work environment has changed recently and with all of our users working from home, our setup using ZDAM and Resilio allowed our users to head home, be safe and continue to seamlessly work, just as they did in the office," stated Dittmer. 

Plus, there's no specialized hardware or heavy lifting required:

"All they needed was an internet connection.  No VPN's, No slow file server access, just nice fast file access with the comfort of knowing the files were backed up in the cloud and available to all users at our agency, regardless of where they were hunkered down.  This application combo, along with our partnership with Zenplex, was vital to keeping our business running and our users billing."– Jason Dittmer, MERGE's VP of Technology

Industry
Media, Creative Teams